by John Karras, PE, and Thomas F. Chmill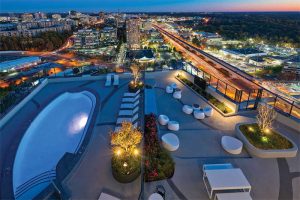 Imagine this nightmare scenario for a design professional. Just after the construction of a sleek rooftop amenity space, the building management reports widespread leaks into the structure's upper floor, where multimillion-dollar penthouse residential units are about to be occupied. Then the question arises: Did the project design drawings and specifications sufficiently address potential amenity roofing challenges?
Rooftop amenity spaces have become common selling points of luxurious multifamily, office, and hotel buildings in competitive real estate markets. These inviting spaces are frequently included in new construction, but are also gaining popularity during retrofits of existing roof spaces. Certain amenities, such as water features, swimming pools, playgrounds, outdoor kitchens, and elaborate landscaping, can add value to a building from a variety of perspectives, including the addition of usable square footage and generation of premium lease rates.
These amenities, however, carry many inherent waterproofing and associated drainage complexities that significantly exceed those encountered in conventional low-slope roofing design and construction. Without a coordinated design among all relevant parties, coupled with carefully sequenced construction operations, rooftop amenity spaces can plague project stakeholders and property managers with leakage and water management problems that are formidable to address once the building is in service. At times, these spaces can inadvertently commit the building owner to a waterproofing/drainage maintenance program requiring unintended confined space procedures, or worse yet, demolition, to resolve.
Roof design coordination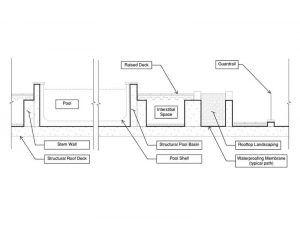 Coordination among design team members and consultants is not a new concept, so what makes amenity roofs such a unique challenge? In part, the endless combinations of materials and features specified for rooftop amenity spaces are limited only by the imagination of the designer and the project budget. Moreover, the coordination process involves multiple design professionals (architect, structural, plumbing, and civil engineers, and landscape architect) and is complicated by key amenity features (e.g. pool and fountain systems) that are traditionally deferred to be executed as delegated designs by supplying contractors. In the authors' experience, coordination could be managed by systematically recognizing the challenges and risks posed by specific amenities and their associated design details.
Interstitial spaces
Some overbuilt rooftop amenities, such as pools or sun decks, require a walking surface elevated above the structural roof deck and waterproofing assembly, resulting in an interstitial space below the raised deck (Figure 1). The raised deck is supported by structural elements, such as concrete or masonry knee walls (often referred to as 'stem walls'), that subdivide the interstitial space into discrete roof zones (Figure 2).
In the authors' experience, the primary building waterproofing is usually located at the structural deck elevation, and the zoned nature of the resulting roof presents complications to drainage design. On a traditional low-slope roof where the membrane surface is unobstructed, the square footage of a particular roof area drives the size and quantity of roof drains. However, the drainage design for an interstitial space subdivided into zones should be developed in lockstep with the layout of the stem walls. The design team should also hold a coordination session between the structural and plumbing engineers to communicate viable drain locations relative to the stem wall layout. During this process, one must endeavor to locate a dedicated internal drain in each zone. It is important to note, continuous stem walls completely enclosing each zone will not only warrant numerous dedicated drains, but may also present unforeseen consequences, including limited ventilation and service access to the interstitial space.