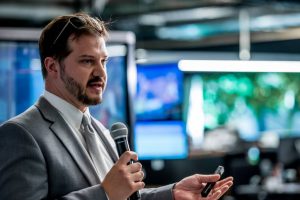 The Green Business Certification, Inc. (GBCI) has announced its 2019 class of Leadership in Energy and Environmental Design (LEED) Fellows, an annual recognition of outstanding LEED professionals. This year's 29 LEED Fellows are exceptional practitioners and leaders within the green building community and have demonstrated mastery of the technical application of LEED, the world's most widely used green building rating system.
"People have always been at the heart of green buildings and this year's LEED Fellows represent an important group of professionals who play a vital role in shaping the future of our work," said Mahesh Ramanujam, CEO GBCI and the U.S. Green Building Council (USGBC). "These Fellows have used LEED to deliver on key sustainability goals that have the power to improve lives and create healthier buildings and communities for us all to enjoy. Their work has contributed to the continued growth of LEED and green buildings around the world and we are stronger because of their dedication and commitment to a better future."
LEED Fellows are nominated by their peers and must have made at least 10 years' worth of exceptional impact on LEED and hold an active LEED AP with specialty credential, among other requirements.
The 2019 LEED Fellows include:
Adriana Petrella Hansen, CTE;
Allison Cunningham, Ecoworks Studio;
Amanda Atkinson, Holder Construction;
Avneet Gujral, Sustainable Design Consulting;
Caroline Havey, The Green Engineer;
Dario Ibarguengoitia, IBALCA SA de CV;
Diego Ibarra, EA Buildings;
Eden Brukman, San Francisco Department of the Environment;
Emre Ilicali, Altensis;
Jeremy Knoll, BNIM Architects;
Joel Stout, Thornton Tomasetti, Inc.;
Jonathan Weiss, Jacobs;
Joseph Marfi, Turner Construction;
Kim Lombard, AECOM;
Kwok May Han Grace, Allied Sustainability and Environmental Consultants Group Ltd.;
Lauren Wallace, Epsten Group, Inc.;
Lindsey Perez, DLR Group;
Lourdes Salinas, THREE Environmental Consulting;
Michelle DeLora, SchenkelShultz;
Noreen Richards, Verdacity;
Paul Hutton, Cuningham Group Architecture;
Qiang Zhang, KKECO;
Ramana Koti, Lord Aeck Sargent, a Katerra Company;
Sandy Mendler, Mithun;
Sarah Talkington, Austin Energy Green Building;
Sue Clark, Tengbom;
Tim Murray, EYP Architecture and Engineers;
Wenmin Zhu, Das Daring Energy Technology Co., Ltd.; and
Yan Mei LV, CBRE.