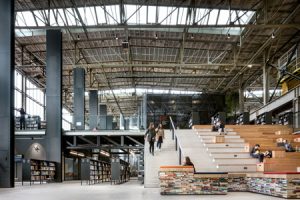 LocHal Public Library in Tilburg, the Netherlands, has been declared the World Building of the Year 2019 at the 12th annual World Architecture Festival (WAF), held in Amsterdam. The scheme was designed by Civic architects (lead architect), Braaksma & Roos Architectenbureau, and Inside Outside/Petra Blaisse.
LocHal was originally a locomotive hangar, built in 1932. It was transformed into a public meeting place and library. The library capitalizes the existing structure, thereby minimizing the amount of new structural elements, while also providing ample opportunity for interaction and the creation of new knowledge. The building houses amenities shared by the library, arts organizations, and co-working facilities. In addition to areas for lectures and public events, the building also has a number of 'labs' where visitors can learn new skills.
The judges were impressed by the way "this project transformed a significant building which had been planned for demolition" and how "the result has created a physical facility in which a variety of users can meet for multiple purposes. In this sense, the building has become a social condenser".