Annual NCARB report shows growth in the architecture profession
July 21, 2020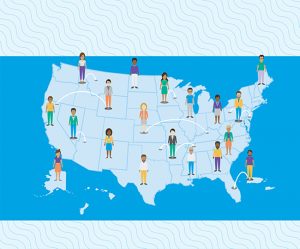 The National Council of Architectural Registration Boards[2] (NARB) has released its annual report, demonstrating the health, resilience, and future of the architecture profession.
"As we release the ninth edition of our annual data publication this year, the architecture profession faces another period of dramatic change," said Michael J. Armstrong, NCARB CEO. "Changes brought about by the COVID-19 pandemic—as well as pre-existing shifts in technology, firm structure, employment, mobility, work process, and beyond—may quickly alter the practice of architecture and recent trends seen on the path to licensure."
State of licensure
According to the 2020 NCARB by the Numbers[3] report, the number of U.S. architects continued to rise in 2019, suggesting the profession heading into 2020 was healthy and growing. At the start of 2020, there were over 116,000 licensed practitioners across the 55 jurisdictions, a one percent increase from 2018. Architects also collectively hold over 137,000 out-of-state (reciprocal) licenses. This is evidence that the profession has an effective path to mobility.
Demographics
Gender representation and racial and ethnic diversity both increased in 2019 at several key stages on the path to licensure. An area of progress for both metrics was the proportion of candidates completing the experience program in 2019.
Racial and ethnic diversity also increased across most career stages, including a three percentage point jump in people of color completing the Architectural Experience Program (AXP) and a four percentage point increase in people of color starting the Architect Registration Examination (ARE). However, this growth is largely restricted to the Asian and Hispanic/Latino population, with no change seen in the proportion of African-American individuals in the profession.
While women and people of color remain underrepresented within the profession, this year's data suggests that the gradual improvements in early career stages are starting to impact post-licensure career stages—a signal that the profession may be changing, if slowly.
"While some of these trends may change in the year ahead, there is reassurance in knowing the profession was in excellent health going into this challenging time, and we hope it emerges stronger and more dynamic than ever before," Armstrong said.
Endnotes:
[Image]: https://www.constructionspecifier.com/wp-content/uploads/2020/07/Opener-14.jpg
National Council of Architectural Registration Boards: https://www.ncarb.org/
NCARB by the Numbers: https://www.ncarb.org/nbtn2020/introduction
Source URL: https://www.constructionspecifier.com/annual-ncarb-report-shows-growth-in-the-architecture-profession/
---