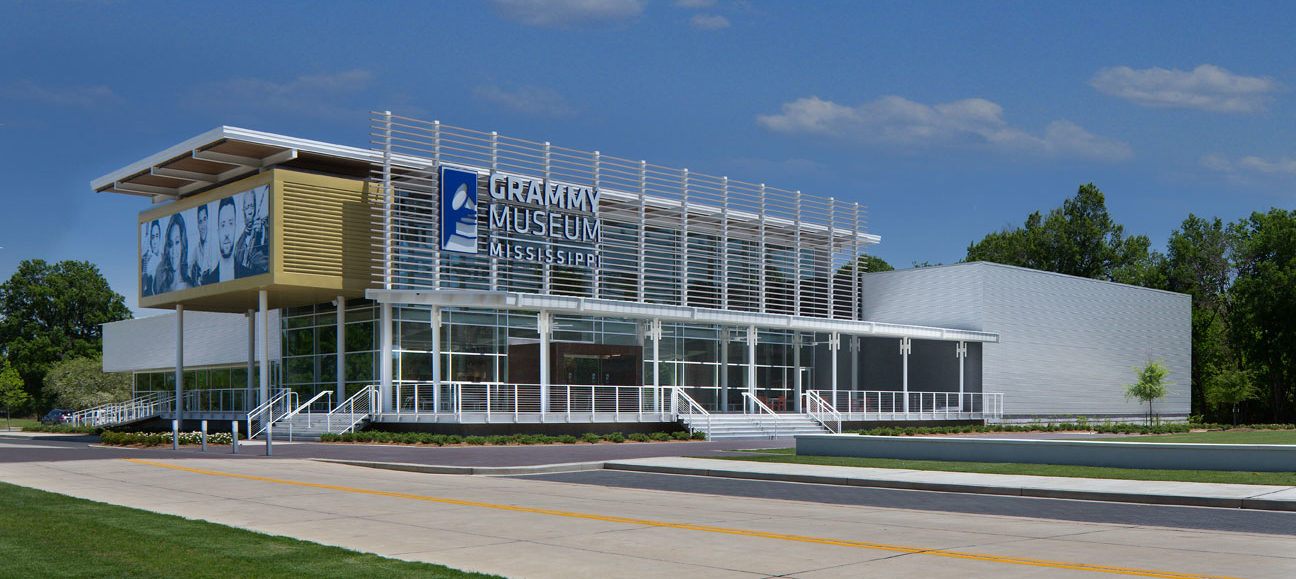 Celebrating the continuing musical achievements of the residents of the Magnolia State, the Grammy Museum Mississippi opened a year ago in Cleveland. This one-story, 2601-m2 (28,000-sf) museum carries a value of $20 million, and features exhibits that explore the timeline of music developments and its supporting cultural context. It is located near the Delta Music Institute and its audio recording facilities.
"The design concept was to create a building as contemporary as the internationally recognized brand it represents, while still resonating with the Delta vernancular," says Jason Agostinelli, an architect with Dale Partners, which—in collaboration with Eley|Barkley—designed the museum. "The blending of these two themes helps reinforce the idea that, yes, Mississippi has great musical heritage, but we are still very relevant in today's music scene."
Among the museum's various notable features is its incorporation of a 9-m (30-ft) tall curtain wall in the lobby, and its use of proprietary entrance systems. The curtain wall itself features 190- and 254-mm (7.5- and 10-in.), durable and low-maintenance aluminum framing members painted white. It can withstand wind speeds of up to 145 km/hr (90 mph), and is secured with an exterior screw-applied pressure bar.
"This museum required that we have no natural light in the exhibit space. We wanted to combat that with an all-glass lobby to provide a visually active space," says Agostinelli. "The lobby is a great event space for the community and can accommodate over 300 people. The curtain wall allowed the lobby to act as our 'screened porch' so that, visually, it was a continuation of the front porch."
"The south-facing porch was designed to accommodate larger numbers of people during functions and events seeking shelter from the heat," he continues. "The brise-soleil over the porch was designed to shade the lobby during the summer, but will allow the sun to warm the space during the winter when the sun angles are lower."
The glass for this project, including glass for the lobby and elevator, was installed by general contractor Flagstar Construction Company and glazing contractor Raymond Glass Company.
Additionally, the museum features design elements that support its exhibits—for example, the permanent exhibit 'History of Dance' relies in part on a touch-sensititve, multi-colored dance floor. Special exhibits also come and go throughout the year. The facility includes two areas to support events: the 140-seat Sanders Soundstage (a theatre located within the museum) and an adjacent outdoor amphitheater with space for up to 2000 people.
"We regularly receive compliments on our facility from visitors and the modern, open design makes it ideal for special events," says Emily Havens, the museum's executive director.