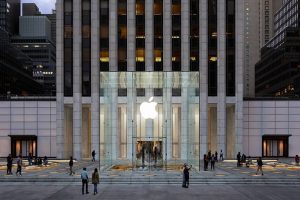 The tech giant's redesigned Fifth Avenue store in New York City is now open. With its distinctive, luminous glass cube, the store rises above a newly designed public plaza.
The store is nearly double the size of the original version with a higher ceiling and more natural light creating a brighter, more expansive space. Steve Jobs opened the store in 2006 and personally welcomed the first customers to enter the cube.
The redesigned plaza is lined by 28 honey locust trees bordered with linear fountains. At the center stands the glass cube flanked by 18 mirror-glass skylenses and 62 skylights that flood natural light into the expanded store below. Visitors enter by descending the new stainless steel spiral staircase, or by riding the circular elevator into the grand hall.
The new descending stainless steel spiral staircase is designed with 43 cantilevered stair treads that support a floating cylinder of glass. Above is a back-lit, cloud-like ceiling made from curved fabric that combines artificial and natural light to match the real-time tones of sunlight throughout the day.