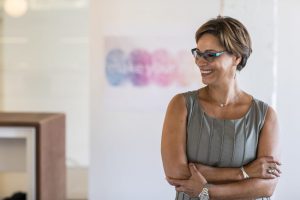 Gabrielle Bullock, FAIA, is the recipient of the 2020 Whitney M. Young Jr. Award by the American Institute of Architects (AIA).
Established in 1972, the award honors architects and organizations that champion a range of social issues.
Bullock was inspired to become an architect to positively affect the lives of African-Americans and other people of color, AIA said. She was the first African-American and the first woman to assume the role of managing director at Perkins and Will. Additionally, she has served as the firm's director of global diversity since 2013. In that position, she has been charged with broadening the firm's culture of inclusion and is helping reshape society by confronting issues of equity through meaningful work.
As a role model, Bullock also champions diversity throughout the entire profession. Her efforts have led to her role as the first female African-American president of the International Interior Design Association (IIDA) and speaking engagements and committee roles for AIA and other allied organizations. Bullock has been an important voice for AIA's Equity in Architecture Commission and its Diversity Council.
"As former staff of AIA National and responsible for equity, diversity, and inclusion, I have relied on Gabrielle Bullock to provide support, advocacy, and speak for the advancement of a more diverse profession," wrote Damon Leverett, AIA, in a letter supporting Bullock's nomination. "While being highly engaged in the culture of the profession, she maintains a progressive career as an architect and designer, leading socially responsible projects across the country and globally."