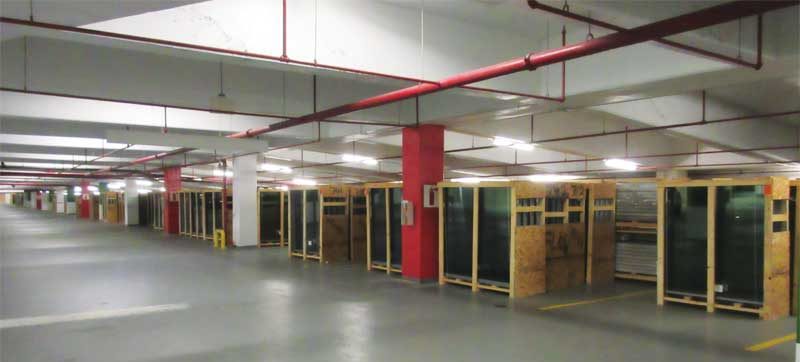 by Evan Landis, PE, Chrystal Chern, and Anthony J. Nicastro, PE
Fenestration products come in a wide variety of forms, ranging from window units manufactured in a production facility to custom 'stick-built' curtain wall products that are assembled in the field. 
Each fenestration component provided for a project is required 
to meet performance requirements set forth by the specifications. 
 Conducting quality control (QC) testing of installed fenestration products while construction is ongoing helps limit the potential for performance issues after the building is occupied. By following 
a very carefully developed testing program, project teams are able to check the submitted and installed product meets the project-specific performance requirements.
The architecture, engineering, and construction industry relies on the American Architectural Manufacturers Association (AAMA) for fenestration guidelines regarding product ratings for anticipated performance, installation and integration with adjacent assemblies, and field-testing methods 
and procedures. AAMA's constituency includes manufacturers, suppliers, testing laboratories, and related professionals; its advice is often collected 
into consensus-based standards meant for industry reference and guidance. AAMA produces a wide variety of standards—this article highlights some that address QC field-testing intended to verify fenestration performance for new construction projects.
Selecting a QC testing program suitable for a project, and then accurately incorporating it into the project specifications to include AAMA standards, can be a daunting and potentially confusing task. Testing incurs a cost, so sample size and rigor should be not only founded on sound industry guidance and practice, but also thoughtfully balanced for the project's scale and complexity. A poorly defined or insufficiently thorough testing program can leave 
the installation unchecked and potentially allow performance issues to remain undetected during 
the construction process. Problems may then be discovered after occupancy, when the expense and disruption of necessary remedial repairs are elevated.
A well-defined and executed quality control testing program for fenestration allows project teams to verify the performance of selected products and have reasonable confidence the installed work completed during 'production mode' meets project requirements.
This article outlines applicable standards for:
specification and testing of newly installed fenestration products;
incorporation of applicable standards with the project specifications; and
interpretation of results.
This article does not address diagnostic testing of new or existing windows with leakage issues, to which AAMA 511, Voluntary Guideline for Forensic Water Penetration Testing of Fenestration Products, and ASTM E2128, Standard Guide for Evaluating Water Leakage of Building Walls, apply.
While this article addresses testing programs set forth by AAMA, the design team may choose to specify quality control testing using the applicable testing standards from ASTM instead. A testing program built around those standards may include different test pressures desired by the specifier, but development of such a program requires careful attention to specification language to ensure testing requirements are clear.