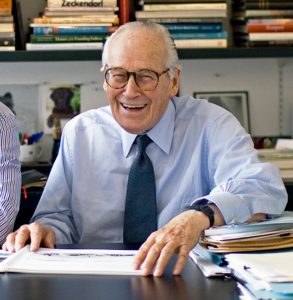 Jaquelin "Jaque" Taylor Robertson, FAIA, a prominent U.S. architect and proponent of urban design, passed away on May 9 at 87.
Robertson was known for his work creating private residences as well as planning large-scale projects including the town of Celebration, Florida. Robertson served as the founding partner at architecture and urban design firm Cooper Robertson.
Robertson joined forces with his longtime friend and former Yale classmate, Alexander Cooper in 1988. Along with David McGregor and Brian Shea, they formed the four pillars of what would become Cooper, Robertson & Partners.
"Over the course of his long, fruitful, and rich life, Jaque's accomplishments were innumerable, extraordinary and widely varied," Cooper Robertson said in a statement. "He had a staggering breadth of life experiences and a seemingly bottomless well of talents; always setting the bar high, holding to the highest of standards, and accepting nothing short of excellence, first in himself, and in his partners and colleagues as well,"
Robertson is survived by his wife of 58 years, Anya Sohn Robertson, as well as his sister, Catherine "Kitty" Robertson Claiborne of Virginia.
"Jaque mentored, and instilled certain values in, dozens of young architects over his career—many of whom are still with Cooper, Robertson, and many others who are practicing elsewhere across the globe. That is, perhaps, his greatest gift to the profession and the culture, perhaps his greatest legacy," the statement said.