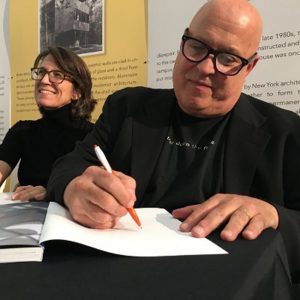 Angela Brooks, FAIA, LEED AP, ENV SP, and Lawrence Scarpa, both from Brooks + Scarpa are the newest members of the Civita Institute's Partners in Design Climate Action Fellowship.
Brooks, principal at Brooks + Scarpa, is a leader in the field of environmental and social-equity design. She believes it is not enough to create great buildings and has worked to create complete neighborhoods. With Scarpa, she co-founded a non-profit called Livable Places to promote good policy, density, and livable communities, lectures extensively on these topics, and was 2018 chair of the American Institute of Architects (AIA's) Committee on the Environment (COTE), developing programs and advocating for policy changes, and at the federal level, promoting design that achieves high levels of performance.
Scarpa is an architect based in Los Angeles, California, whose firm Brooks + Scarpa has received more than 50 major design awards. Considered a pioneer and leader in the field of sustainable design, Scarpa often using conventional materials in unexpected ways, and views each project as an opportunity to rethink the way things normally get done—with material, form, construction, and even financing. Currently on the faculty at the University of Southern California, he has taught and lectured at the university level for more than two decades.
Brooks and Scarpa's fellowship will investigate qualities that have enriched hill towns in the central Italy region and Civita di Bagnoregio's (Italy) timeless culture: local climate, integration of building and site, regional materials, and vernacular technologies. They will identify, study, and document a handful of significant and common historic structures/places that are model examples of how passive design strategies lead to design excellence and enrich cultural and civic identity.
"Much can be learned from the historic adaptive reuse of buildings and places in the diverse climatic regions of Italy and the built environment's contribution to a sense of place for these communities," said the Civita Institute. Culling principles of design that can be translated from the hill towns of Italy to the metropolis of Los Angeles will help contribute to an understanding of what makes places special and loved by people.
They were selected by a jury comprising five Seattle-based creative professionals including board member Anita H. Lehmann, a registered architect, artist, illustrator, and educator; incoming board member Cathy Dempsey, a project manager with over 30 years of experience in the development world, Dennis Ryan, University of Washington professor in architecture, planning and urban design, and past visiting professor at the UW Rome Center, Vikram Sami, AIA, director for building performance at Olson Kundig, and 2019 fellow Janet Neuhauser, a professional photographer, artist, and educator.