Architects Jennifer Bonner and Walter Hood designated 2021 USA Fellows
February 8, 2021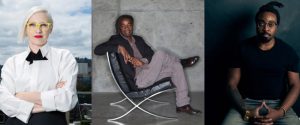 Jennifer Bonner of architecture firm MALL[2], landscape architect Walter Hood[3], and artist and designer Olalekan Jeyifous[4] have been named 2021 Fellows in the Architecture & Design category by Chicago-based arts funding organization United States Artists[5] (USA).
This year, 60 artists across 10 creative disciplines will receive $50,000 cash awards from USA. The award honors their creative accomplishments and supports their ongoing artistic and professional development. The 2021 USA Fellows class is the largest in the organization's 15-year history. USA Fellowships are awarded to artists at all stages of their careers and from all areas of the country through a rigorous nomination and panel selection process.
"We are grateful for every artist whose artmaking, music, writing, and more is helping us to navigate and cope through this harrowing time in our country," said EO Deana Haggag, USA President. "The 2021 USA Fellows are a testament to the power of art in shaping the world around us and navigating its complexities. Artists do so much for our communities, and we are grateful to be able to support these 60 incredible practitioners and welcome them into the United States Artists Fellowship."
The USA Fellowship is the organization's flagship program and is central to its mission of believing in artists and their essential role in society. In many ways, 2020 has shown the resilience and necessity of that mission, and the organization, USA said in a press release.
"Artists are at the core of their communities, and as the difficulties of the past year have demonstrated, it is more important than ever that we continue to support individual artists," said Ed Henry, USA board chair. "And as we continue to meet the challenges 2021 will bring, it is also clear USA must remain nimble and responsive to the needs of the field, which is why we are honored to be able to support the largest cohort in our history with 60 artists this year."
Since 2006, the USA Fellowship has provided direct support to artists across the country. With this unrestricted award, Fellows decide for themselves how to best use the money—whether it is creating new work, paying rent, reducing debt, getting health care, or supporting their families. To make its work possible, USA actively fundraises each year and is supported by a range of philanthropic foundations, companies, and individuals committed to cultivating contemporary culture across the country.
Endnotes:
[Image]: https://www.constructionspecifier.com/wp-content/uploads/2021/02/Opener-7.jpg
MALL: https://www.thisxthat.com/mall
Walter Hood: http://www.hooddesignstudio.com/
Olalekan Jeyifous: http://vigilism.com/
United States Artists: https://www.unitedstatesartists.org/
Source URL: https://www.constructionspecifier.com/architects-jennifer-bonner-and-walter-hood-designated-2021-usa-fellows/
---