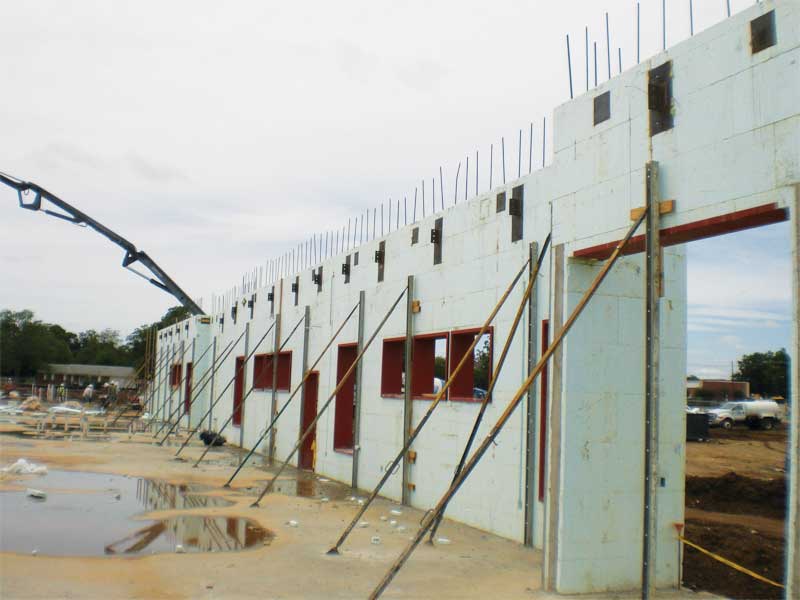 by Chris Keith and Cameron Ware
The Academy at Nola Dunn is a K–5 elementary school in Texas' Burleson Independent School District (ISD). Completed in 2010, the 9940-m2 (107,000-sf) building has an external envelope consisting of insulated concrete form (ICF) walls and integrated framing assembly (IFA) door and window frames. This combination of two construction methods contributes significantly to the building's high energy efficiency, enabling it to win a Best in Class award for heavy commercial construction from ICF Builder magazine. (For the March/April 2014 issue of ICF Builder, which featured the winners of this award, visit 
www.icfmag.com/builder_awards/2013/Heavy_Commercial_00.html. The school was also featured in "Reviewing Lessons Learned in Schools: Why Many Texas Schools Are Choosing ICF Technology and Realizing Big Benefits," an article by one of this article's authors [Cameron Ware] in the February 2016 issue 
of Concrete Homes and Low-rise Construction.)
ICF construction involves stacking hollow rectangular blocks of expanded polystyrene (EPS) atop one another and then filling the cavity created by the stacked blocks with concrete. Typically, steel rod reinforcing is also placed in the cavity prior to the concrete pour. This construction method first appeared in the residential real estate market, and one can even find textbooks for building residentially with ICFs. (These textbooks include 2006's Concrete Systems for Homes and Low-rise Construction: A Portland Cement Association Guide by Pieter A. VanderWerf, Ivan S. Panushev, Mark Nicholson, and Daniel Kokonowski and 2007's The Concrete House: Building Solid, Safe, and Efficient with Insulating Concrete Forms by VanderWerf.) However, nonresidential construction has taken up more than half of the total ICF market in North America for the past several years, with buildings such as military barracks, churches, hospitals, hotels, and educational facilities now being constructed with this method. The most recent market prediction for 2016 suggested almost 3 million m2 (32 million sf) of the ICF market's total 5.1 million m2 (55 million sf) would be commercial construction. (See the market analysis in the January/February 2016 issue of ICF Builder at www.icfmag.com/articles/features/2016-01_Report.html. For a global perspective on the market, see Mordor Intelligence's "Global Insulated Concrete Form [ICF] Market 2015-2020: Market Shares, Forecasts, and Trends" from 2016, available at www.mordorintelligence.com/industry-reports/global-insulated-concrete-form-icf-market-industry.)
The Academy at Nola Dunn
The Academy at Nola Dunn is the first all-ICF 
school in the state of Texas. The education sector is increasingly using the ICF method because of the structural stability, high RSI/R-value, and low life-cycle costs it offers. Many buildings recently constructed with this method have also been certified to the Leadership in Energy and Environmental Design (LEED) rating program.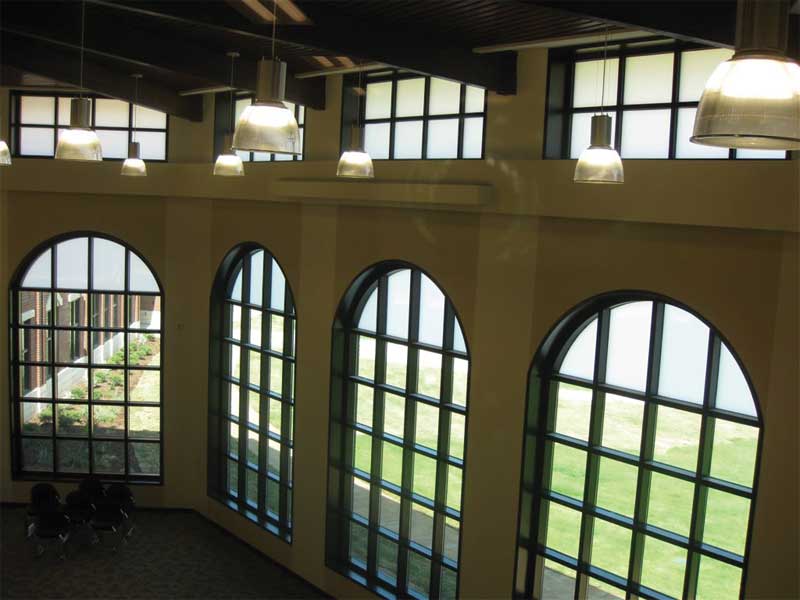 Several schools utilizing this product, such as Richardsville Elementary School (Bowling Green, Kentucky) and Dearing Elementary School (Pflugerville, Texas), have even achieved net-zero energy. (Richardsville Elementary School was the nation's first net-zero school. Engineering News and  Record Texas and Louisiana named Dearing Elementary School in Pflugerville, Texas, its Best Green Project in 2015, as shown at www.enr.com/articles/
38188-best-green-project-dearing-elementary-school.) Richardsville has been featured in Forbes as a "model for the future" and "a harbinger of a coming trend," though the trend predates both schools. Burleson ISD in particular has led the way in environmentally conscious use of ICFs in school designs, as demonstrated by the Academy's highly energy-efficient performance. (These quotations are derived from Forbes article "Net Zero Schools in Kentucky: Models for the Future Come from Surprising Places" by Peter Kelly-Detwiler, published in 2012. Visit www.forbes.com/sites/peterdetwiler/2012/12/10/net-zero-schools-in-kentucky-models-for-the-future-come-from-surprising-places/#1eb3e900402b.)
Employing these innovative methods and having specific focus on the building envelope as the best expenditure of its "green dollars" has paid off for the district, and not just in terms of awards and public recognition. (This term comes from a quotation by Cliff Holden, construction manager for Burleson Independent School District [ISD], which is referenced in the Ware article from note 1: "Given our experience and database of lessons learned we concluded that the best green dollar spent is the one you don't spend. … We have concluded that the least expensive way to save energy is to focus on the envelope first.") According to an independent study by CLEAResult (contracted by Oncor energy), not only did Burleson ISD schools consume less energy (kBTU/sf) per year than local districts—in some cases, consuming less than half in comparison—but the Academy at Nola Dunn was also by far the most energy-efficient building within the district. (This data comes from the "Burleson ISD Energy Benchmarking Report" from November 2013.) It consumed a third less annual energy than the next closest building in Oncor's study (13.2 kBtu/sf compared to 20.6 kBtu/sf at Clinkscale Elementary School), and earned a U.S. Environmental Protection Agency (EPA) energy portfolio manager ranking of 99. Its energy cost index (annual energy costs/sf) was $0.43—the lowest of any building in the school district. (This data comes from the "Burleson ISD Energy Benchmarking Report" from November 2013.)

This information cumulatively points to ICF buildings' value as energy-efficient uses of public funds. It suggests owners may want to focus on the building envelope before securing places in their budgets for other green aspects such as solar panels, rainwater reclamation systems, or wind-harnessing devices.