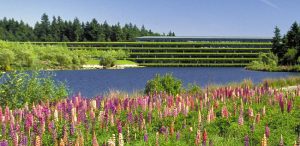 Education and advocacy nonprofit The Cultural Landscape Foundation (TCLF) launched an international letter-writing campaign to prevent inappropriate development at the timberland company Weyerhaeuser's corporate headquarters in Federal Way, Washington, which is dubbed as one of the "finest corporate campus in the world" and worthy of National Historic Landmark status.
It was originally designed by landscape architect Peter Walker, founding principal of Sasaki, Walker and Associates (SWA) and PWP Landscape Architecture, and Edward Charles Bassett, partner at Skidmore, Owings & Merrill (SOM). The campaign has resulted in letters from landscape architects, architects, scholars, and leaders throughout the design community. The letters are addressed to Federal Way mayor Jim Ferrell—the city issues land use and construction permits—and U.S. Army Corps of Engineers Seattle district commander Colonel Alexander Bullock—the Corps is conducting a review because wetlands are affected.
Weyerhaeuser, which was completed in 1972, is now owned by the Los Angeles-based developer Industrial Realty Group. The group plans to build 139,355 m2 (1.5 million sf) of warehouse space at the 172-ha (425-acre) site. Officials at IRG are ignoring a mid-1970s master plan that details appropriate areas for development and have rejected design assistance from Walker, SOM partner Craig Hartman, and SWA managing principal René Bihan.
Landscape architects including Laurie Olin, Bill Johnson, Gary Hilderbrand, Debra Guenther, Brice Maryman, and Weyerhaeuser designer Peter Walker, along with scholars Marc Treib, Richard Longstreth, David Streatfield, Gwendolyn Wright, Nicholas Adams, Scott Melbourne, and Kenneth Helphand, architects Joeb Moore and David Goldberg, Docomomo US, design critic and architectural historian Alexandra Lange, and others are speaking out. A microsite features the letters and members of the public are encouraged to contact Mayor Ferrell and Colonel Bullock.
Here are excerpts from the letters.
Marc Treib, professor emeritus of architecture at the University of California, Berkeley, wrote, Weyerhaeuser "remains the best preserved and most outstanding corporate campus in the United States, arguably in the world."
Gary Hilderbrand, founding principal of Reed Hilderbrand and the Peter Louis Hornbeck professor of landscape architecture at Harvard Graduate School of Design, wrote Weyerhaeuser "is rightly considered by many to be a national treasure."
Joeb Moore, founding principal at Joeb Moore & Partners, Architects, wrote, "As an architect I find this building and landscape inseparable and one of the most important projects of post-war II twentieth century."
Peter Walker, original landscape architect at Weyerhaeuser, founding principal of Sasaki, Walker and Associates (SWA), and PWP Landscape Architecture, wrote "In my 60 years of landscape architecture projects, which include the Nasher Sculpture Center in Dallas, the National September 11 Memorial with Michael Arad in New York City, and the U.S. Embassy in Beijing, Weyerhaeuser Headquarters is perhaps the most important and certainly the dearest to my heart."