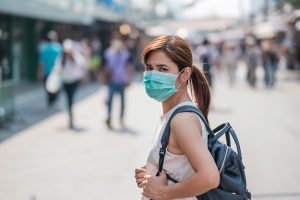 As the worldwide number of people infected with the deadly coronavirus nears 90,000, some architectural and design events have been rescheduled or cancelled altogether due to the outbreak.
Here are some of them.
Design Shanghai
Design Shanghai, one of Asia's leading international design events, has rescheduled their fair in Shanghai, China, from March 12 to 15 to May 22 to 29.
"We have made this decision based on advice and information from government and local authorities in China and consultation with our partners, venue, and local team," they wrote on their website. "The safety of our customers and team is our first priority."
Festival of Design
The Festival of Design by Design Republic, which was to take place from March 13 to 22 in Shanghai has been cancelled.
"Due to the recent outbreak of coronavirus in China and the public health emergency it poses on the international community, the planning committee of Festival of Design has decided to cancel the lectures and related events for the March 2020 edition," they wrote on their Instagram page.
The committee said the Festival of Design will resume in March next year.
Light + Building
One of the world's leading trade fairs for lighting and building technology, Light + Building was initially scheduled for March 8 to 13 in Frankfurt, Germany, but has been moved to September 27 to October 2.
"Due to the increased spread of the coronavirus in Europe, Messe Frankfurt [organizers] decided to postpone Light + Building after intensive consultation," their website said.
M+ Matters: Archigram Cities
M+ Matters: Archigram Cities, an exhibition series introducing avant-garde architectural group Archigram's work to new audiences, was to take place in Hong Kong last month, but it was rescheduled indefinitely.
The organizers said, "Due to unforeseen circumstances, 'Archigram Cities' will be postponed and rescheduled. We will announce a new date for the event as soon as possible. We apologize for any inconvenience caused."
Expocasa
The Expocasa trade show on furniture, home styling, interior design, and renovations scheduled to take place in Turin, Italy, in February has been moved to March 28 to April 5.
"The ongoing health emergency and the related joint ordinance of the Ministry of Health and the Piedmont Region, which suspends any public event this week, prevents compliance with the original calendar, with the opening scheduled for next weekend," they said in a press release.
Additonally, the New York-based Syracuse University School of Architecture has suspended its Florence, Italy, study abroad program in fear of the spread of the coronavirus, CNYCentral reported.