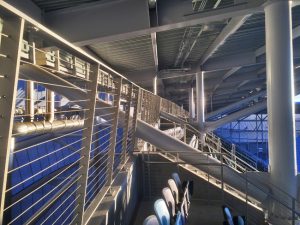 The state-of-the-art Allianz Field in St. Paul, Minnesota, is the new home of the Minnesota United FC soccer team and serves as a model for future MLS stadium development. From the innovative, transparent mesh exterior skin that wraps around the stadium to the 360-degree roof canopy and intimate seating bowl, the stadium represents a new era in American soccer.
The 19,400-capacity facility designed by Populous features more than 15,000 linear feet of architectural railing. With the furthest seat situated 38 m (125 ft) from the field, the cable railing enhances safety and optimizes sightlines.
The railing system with stainless steel cables is placed in front of fan seating areas, providing optimal views of the pitch from every vantage point and allowing spectators to be right on top of the action.
On the premium side of the venue, open-air loge boxes feature semi-private, glass-encased seating with a frameless track rail system with a glass nut base shoe.
In the rooftop seating, attached drink rails allow spectators to enjoy a beverage or snack without missing any of the action on the field.
The track rail can be found in front of premium seating, providing a modern design and a more intimate viewing experience. Additionally, graspable aluminum handrails ensure safe movement for fans in between aisles.