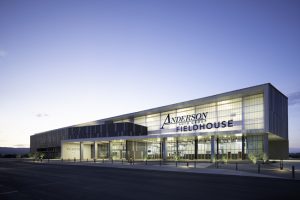 The Anderson Auto Group Fieldhouse, Bullhead City, Arizona, designed by Orcutt Winslow, features an interlocking wall system, which creates a translucent building envelope that maximizes natural lighting during the day and creates a soft glowing appearance when lit from the inside at night. High light levels, solar control, and durability were equally important attributes for the project.
The fieldhouse encompasses 11,706 m2 (126,000 sf) with regulation football and soccer fields, classrooms, and space for up to 8000 people. When not in use by the Colorado River Union High School District's River Valley High School Dust Devils and Mohave High School T-Birds, the Fieldhouse is available for other athletic, academic, community, and commercial uses.
"The exterior design for this facility drew on the natural and human history of the place," said Winslow. "This history is reflected in the design through the irregular textures created by the metal panel cladding that resembles the stratification seen in the surrounding mountains and the gem-like polycarbonate panels that bring in natural daylight allude to the hidden pockets of precious metals deep below the surface of the earth."
Achieving the architectural aesthetic and exterior performance requirements, a wall system with highly insulating, 40 mm (1.5 in.) cellular polycarbonate glazing (CPG) with extruded aluminum framing was fabricated. CPG panels presented a clean, attractive, and modern appearance.
The CPG is in an opal color panel with an exterior surface that blocks infrared (IR) and ultraviolet (UV) waves. The IR- and UV-blocking CPG material helps control unwanted solar heat gain, reduce demand on the HVAC system, and save on electric lighting costs, while ensuring more comfortable interior temperatures for both athletes and spectators. The wall system also meets demanding performance specifications, including high wind loads, impact resistance, fire rating, thermal and structural performance, air infiltration, and water penetration.
Eliminating the potential for leak-prone horizontal joints, the wall system can extend up to 16 m (54 ft) and does not require framing members within the field of the glazing. Since the wall system is a considerably lighter weight than glass, it also helps with easier, faster installation.