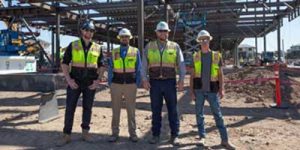 Construction has topped out on Peoria, Arizona's new, 4564 m2 (49,128 sf) rehab hospital. This marks the official midpoint of the construction process and is a key milestone for the project by Adolfson & Peterson Construction Group (AP), Reunion Rehabilitation Hospitals (RRH), and America Development & Investments LLC.
This is AP's and RRH's second project in the Peoria metro area. The three-story facility will include 40 patient beds, two high-tech physical therapy gyms, administrative offices, dining and kitchen spaces, and other service and support areas. Once completed, the hospital will offer inpatient rehabilitation care for people with debilitating illnesses and injuries such as stroke and brain injury, as well as other complex neurological and orthopedic conditions.
The 4564 m2 (49,128 sf) custom-built hospital at 13451 North 94th Drive, on 1.5 ha (3.71 acres), was designed by Callaway Architecture and developed by America Development & Investments.
Scheduled to open in the fourth quarter of 2022, RRH Peoria will provide comprehensive inpatient physical-medicine rehabilitation therapies using results-oriented, individualized plans of care for patients in the area.