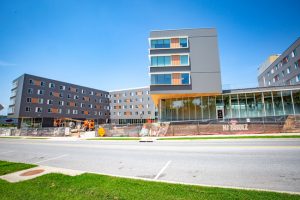 A new residence hall at the University of Arkansas (U of A) campus in Fayetteville, Arkansas, will serve as a testbed for researchers to study the behavior of cross-laminated timber (CLT) as a building material.
Adohi Hall is one of the nation's first large-scale mass timber residence hall projects.
With a $100,000 grant from the U.S. Endowment for Forestry and Communities, U of A professors in the Fay Jones School of Architecture and Design and the College of Engineering have collaborated to measure and analyze the moisture content of the CLT panels.
Tahar Messadi, an associate professor of architecture in the Fay Jones School, is the principal investigator with Cameron Murray, an assistant professor of civil engineering, as co-investigator.
Construction on the residential areas of Adohi Hall wrapped up in the summer, and students moved into them in August. Two five-story residential buildings are connected by a third structure that provides a common area.
The approximately 18,580-m2 (200,000-sf) project is a design collaboration by Leers Weinzapfel Associates of Boston, Massachusetts, Modus Studio of Fayetteville, Mackey Mitchell Architects of St. Louis, Missouri, and OLIN of Philadelphia, Pennsylvania.
Researchers hope their investigation into the use of CLT panels can influence future use of the materials by the design and construction industries.