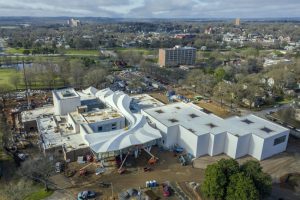 Currently under construction, a major project milestone has happened at the 12,356-m2 (133,000-sf) Arkansas Museum of Fine Arts (AMFA)—a flowing, folded plate concrete structure, blossoming out to the north and south. Spanning the length of the building, the roofline connects new construction and renovated spaces and expresses AMFA's new identity.
Construction continues to move forward, and museum officials announced plans to celebrate the public opening in May 2022.
Situated within Little Rock's historic MacArthur Park, not far from the William J. Clinton Presidential Library and Museum, AMFA is a leading cultural resource for the State of Arkansas, offering installations drawn from its distinguished art collection and temporary art exhibitions, artmaking instruction at all levels at its Windgate Art School, and a year-round schedule of performing arts in its flexible theater spaces. The new AMFA building, designed by Studio Gang led by Jeanne Gang in collaboration with Little Rock-based Polk Stanley Wilcox Architects, is creating an entirely new experience through a combination of construction and renewal of existing structures built between 1937 and 2000, improving and expanding every aspect of AMFA's programs. The project opens the building to nearly 11 acres of public landscape designed by SCAPE, led by Kate Orff, inspired by the native ecologies of Arkansas.
The museum is set to open to the public in May 2022. Despite the challenges associated with COVID-19, construction has continued consistently and safely throughout the past year. More than 50 Arkansas companies have been employed on the project, with more than 200 workers at the site every day.
The project is funded through a $142 million special fundraising campaign, Reimagining the Arkansas Arts Center: Campaign for Our Cultural Future. In January 2021, capital campaign co-chairs Harriet and Warren Stephens announced the campaign has raised nearly $136 million of its goal.