The American Sports Builders Association (ASBA) has announced the winners of its annual awards program. In various categories, the group named facilities built by its membership that "best exemplify construction excellence." Of those, a handful received "Project of the Year" status.
Projects were scored individually based on considerations such as layout and design, site work, drainage, base construction, surface, amenities, innovation, and overall impression. Presentation of all the award plaques happened at the group's recent technical meeting in Ponte Vedra, Florida.
In terms of tennis-related projects, "Indoor Facility of the Year" went to Bishop's Tennis Inc. (Sterling, Virginia) for its work on the new Montgomery TennisPlex (Boyds, Maryland) while "Residential Facility of the Year" was bestowed on Boston Tennis Court Construction (Hanover, Massachusetts) for a new court in nearby Newton. The "Outdoor Facility of the Year" was claimed by Cape & Island Tennis & Track (Pocassett, Massachusetts) for its upgrading work on Springfield College's Appleton Tennis Courts.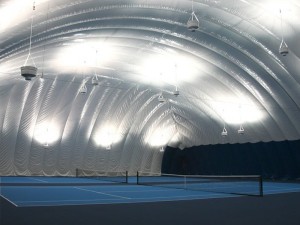 The "Multiple-field Facility of the Year" honors went to Huntress Associates (Andover, Massachusetts) for a new project at Thomas College (Waterville, Maine). "Single Field Facility of the Year" went to Rettler Corp. (Steven Point, Wisconsin) for its upgrading of Goelz Field (Ashwaubenon, Wisconsin).
"Outdoor Track Facility of the Year" was won by Robert Cohen Co. (Albuquerque, New Mexico) for upgrading the Hornet Stadium Track at Sacramento State University in California. Finally, Ray Treacy Track at Providence College's Hendricken Field (Rhode Island) was named "Track & Field Facility of the Year"—the new construction project was by R.A.D Sports (Rockland, Massachusetts).
For a complete list of winners, visit www.sportsbuilders.org/press/pr_120914.pdf.