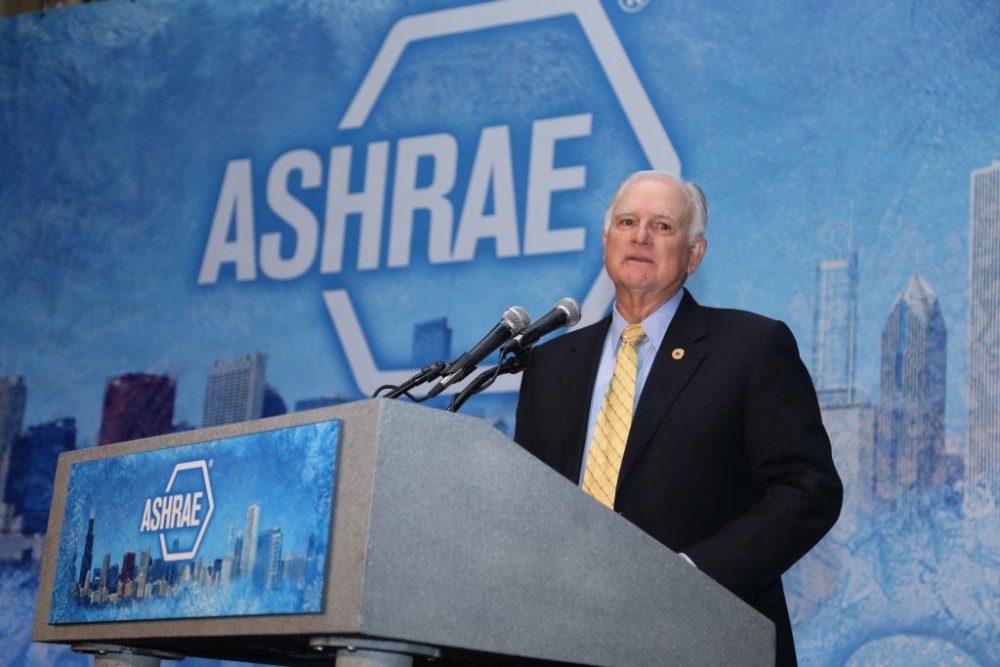 At the American Society of Heating, Refrigerating, and Air-conditioning Engineers' (ASHRAE's) 2015 Winter Conference in January, more than 60 professionals were recognized for their industry contributions.
The F. Paul Anderson Award, the association's highest for technical achievement, is given for outstanding services performed in the HVAC&R field. This year, the winner was Damon Gowan, Fellow ASHRAE, Life Member, the retired president and CEO of EMCOR-Gowan, a provider of construction, tenant build-out, sheet metal fabrication, HVAC, and mechanical services.
Technology Awards were also given out to those who have applied innovative building design incorporating ASHRAE standards for effective energy management and indoor air quality (IAQ) while also serving to communicate innovative systems design. First-place recipients were:
Existing Industry Facilities or Processes: William C. Weinaug Jr., PE, for the Antarctica Empire of the Penguin animal exhibit and ride attraction at Sea World (Orlando, Florida);
Existing Other Institutional Buildings: Kateri Héon, Ing., and Pietro Guerra, Ing., for Centre Civique de Dollard-des-Ormeaux (Québec);
New Commercial Buildings: Benjamin Frank Gozart, Tom Marseille, PE, Charles Chaloeicheep, PE, and Tom Boysen Jr., PE, for the U.S. General Services Administration's (GSA's) Federal Center South, Building 12021 (Seattle, Washington);
Existing Public Assembly: Jason Troy LaRosh, PE, for the Janesville (Wisconsin) Ice Arena addition and renovation;
New Healthcare: Mark Stavig, PE, for Peace Island Medical Center (San Juan Island, Washington);
New Other Institutional Buildings: Matthew William Longsine, PE, and Henry Di Gregorio for the Tacoma Center for Urban Waters (Washington);
New Educational Facilities: Brian Haugk, PE, and Brian Cannon for Valley View Middle School (Snohomish, Washington);
Existing Commercial: Roger (Jui-Chen) Chang, PE, BEMP, for the Wayne N. Aspinall Federal Building and U.S. Courthouse (Grand Junction, Colorado); and
New Public Assembly: Art Sutherland for the Westhills Recreation Centre (Langford, B.C.).
Additionally, ASHRAE announced a new Honorary Member, as elected by the board of directors—Stefano Marino, PhD, who served as the Vatican chief engineer overseeing the restoration of Michelangelo's frescos in the Sistine Chapel, as well as a complete redesign of its environmental controls.
A full list of winners, inductees, new Fellows, and student design competition finalists can be found online.