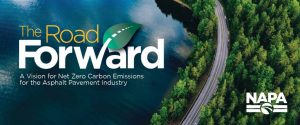 The National Asphalt Pavement Association (NAPA) plans to join other industries around the world in curbing climate change.
Over the past year, the association's Climate Stewardship Task Force has studied the issue carefully to craft a direction for the industry. The result is The Road Forward, a mission, vision, and roadmap outlining the direction the industry needs to take over the next two decades in the pursuit of net-zero carbon emissions in the production of asphalt pavements. It includes four goals, 19 tactics, and eight research and implementation gaps.
NAPA is engaging the asphalt community to further educate them on an unfamiliar landscape filled with new concepts and terminology.
To ease the learning curve, NAPA has developed Sequestered, a word game and accompanying glossary to help others get comfortable with industry-related climate change terminology. A deep-dive webinar series will launch early this year.
NAPA has also dedicated a section of its website to The Road Forward. As new research and events become available, this section will grow to house reference materials, research, best practices, and event information like the educational webinar series.
Right now, visitors to the page will find:
Industry goals and tactics;
A brochure detailing the business case, goals, tactics, and gaps;
A glossary of terms;
Information on how to support the extensive initiative through funding partnerships, and;
Contact information for those wishing to get engaged.
With support from members, staff, and partners, NAPA aims to achieve net-zero carbon emissions by 2050.