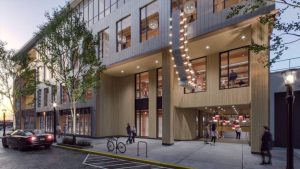 A mixed-use project under construction in Atlanta, Georgia, is using cross-laminated timber (CLT) and glulam made from Georgia-grown southern yellow pine to reduce the project's transportation emissions and reap the material's sustainability benefits.
Called 619 Ponce, the mixed-use development is a project by the real estate firm, Jamestown. It lies adjacent to the historic Ponce City Market and will be a four-story building with three levels featuring 8,361 m2 (90,000 sf) of office space, including 2,137 m2 (23,000 sf) of ground-level retail in the Old Fourth Ward neighborhood.
The architect on the project is Handel Architects, while other collaborators are the construction materials, paper, and pulp company, Georgia-Pacific; SmartLam, a company specializing in mass timber construction projects; and Georgia Forestery Foundation. StructureCraft serves as the engineer of record and design-build subcontractor for the timber superstructure., while JE Dunn serves as the general contractor.
Timber was chosen for the project because it allowed the team to maximize daylight into the office spaces while creating a feeling of warmth through the abundance of exposed wood.
The building's columns, beams, and floor slabs, which arrived on the site recently, are constructed from southern yellow pine sawtimber harvested from Georgia forests, including Jamestown-owned and managed forests near Columbus, Georgia. Overall, the company possesses and maintains more than 40,468 ha (100,000 acres) of timberlands across Georgia, Alabama, South Carolina, New York, Pennsylvania, and Indiana. The timberland is managed under the 2022 Sustainable Forestry Initiative (SFI) Forest Management Standard, a standard ratifying sustainable forestry management practices on several criteria, including measures to protect water quality, biodiversity, wildlife habitat, and threatened and endangered species.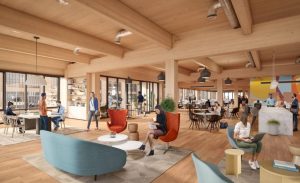 The sawtimber was transported to Georgia-Pacific's sawmill in Albany, Georgia, where it was converted into lumber. The lumber was then transported to SmartLam's mass timber plant in Dothan, Alabama, where it was manufactured into CLT panels. The CLT panels will be erected onsite at Ponce City Market by StructureCraft and J.E. Dunn, with building completion expected in 2024.
The exterior material will be framed in zinc, which will gain patina over time, and was chosen in response to the raw materiality of the all-brick Ponce City Market building next door.
619 Ponce is targeting Leadership in Energy and Environmental Design (LEED) certification and net-zero carbon operations.