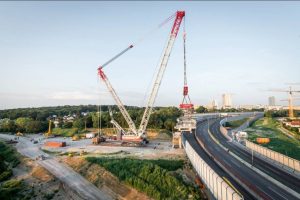 Mammoet, Dutch for 'mammoth,' is a Dutch company known for heavy lifting and transport of oversized or heavy products. More than 30 years ago, a freeway junction on the Vienna southeast tangent in Austria was built but never put into operation.
Due to an elevated road below and confined space around the tangent, the 43-m (141-ft) long, 550-t (616-ton) bridge could not be demolished in a conventional way. To develop a safe solution, the client ASFINAG contacted Mammoet at an early stage.
The solution was to lift the bridge section in one piece and place it at the side of the tangent. The crawler crane, which is one of the largest in Europe, was configured for this application with a main boom length of 78-m (256 ft).
The planning phase of the project started 12 months before its execution. Working in continuous contact with the customer, its complex crane-lifting phase was engineered in detail several times until the solution was found. Suggestions were also made for optimizing the rigging configuration.
"For the heavy lift, it was particularly important to exactly calculate the center of gravity of the bridge in advance and to precisely adapt the rigging equipment to it. In this case, a 31-m (102-ft) long special spreader beam for a load of 650 tons was required. The weight of the rigging equipment alone was 70 tons. An 'integrated stinger,' as fitted to the superlift of the 1600 tons crawler crane also enabled the fast changes of the load," said Gernot Öder, manager of crane and transport projects, engineering, and project management at Mammoet.
Due to precise planning, close cooperation, and an innovative crawler crane solution, Mammoet was able to carry out the work safely and finish it ahead of schedule.