by Jen Miret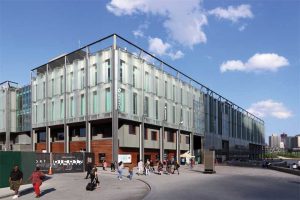 Significant change is coming to new construction projects in New York City. Last December, the city lawmakers adopted legislation requiring bird-friendly glass on new construction and all major renovations. The goal is to reduce the number of bird fatalities from accidental collisions with the transparent building skins.
New York City is not alone. Several others have already established bird-friendly construction standards. The San Francisco Board of Supervisors approved the Standards for Bird-safe Buildings in 2011. Oakland followed just two years later, and since then more California municipalities have adopted bird-friendly requirements. Initiatives are now under way in Chicago and Washington, D.C. The American Bird Conservancy (ABC), the pre-eminent authority on bird-friendly architecture, is also advocating a bill to enact nationwide bird-friendly guidelines for federal buildings.
Defining bird-friendly glass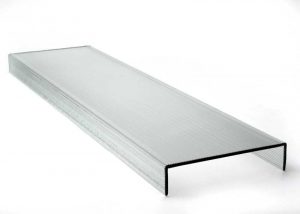 Birds see the world differently from humans. A beautiful glass structure or a window, to birds simply seems like an unobstructed opening they can fly through. They perceive glass reflections as open skies, trees, or gardens, which are normally safe areas to fly toward at full speed.
In this case, however, they are not—and the results are usually deadly. Accidental bird strikes are jarring for building occupants and disastrous for the birds themselves. The solution is architectural glass designed specifically to work with avian eyesight, making it more readily recognizable as a solid obstacle.
The stakes
"Every year, over two billion birds die from window collisions in this country," said Rafael Espinal, New York council member. "Since New York City is along the bird migration route, between 90,000 and 230,000 birds, from hawks to hummingbirds, die from flying into buildings in our city. This is a staggering statistic especially when we have a solution ready to go that can save the many lives of this vital part of our ecosystem."
The challenge for glass companies is to develop attractive, affordable, and effective bird-friendly glass products. In 2016, ABC identified a proprietary channel glass from a New York City-based manufacturer as bird-friendly, making it the first 3D (U-shaped/channel) glass to receive Bird-smart certification (Figure 1).
For the certification process, the manufacturing company submitted its glass for testing at the Pennsylvania Powdermill Nature Reserve flight tunnel, one of only three such facilities in the world. The bird-safety ratings derived from this type of tests have become the basis for the U.S. Green Building Council's (USGBC's) Leadership in Energy and Environmental Design (LEED) Pilot Credit 55 "Bird Collision Deterrence," as well as bird-friendly design ordinances nationwide. An increasing number of bird-friendly glass products are now available, and the demand is growing.
"Everyone has seen or heard a bird hit a window, but few realize how common it is—adding up to hundreds of millions of birds each year in the U.S. alone," said Christine Sheppard, the bird collisions campaign manager for ABC.