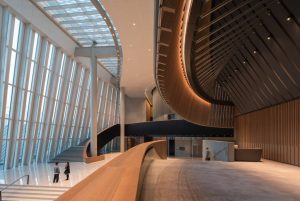 A new performing arts center by Rocco Design Architects recently opened in Shenzhen, China.
Bao'An Performing Arts Center houses Shenzhen's first performance hall scaled and equipped for international operas, as well as a 600-seat theatre and rehearsal facilities. The 28,000 m2 (301,389 sf) building will host opera, dance, symphonies, and dramatic performances.
A delicately perforated façade hearkens back to ancient Chinese crafts like wood and ivory carving and produces visual effects similar to light shimmering on the bay, creating openings at the public lobbies and gathering areas and becoming opaque at the theatre and rehearsal spaces.
The main performance hall will host high-profile productions of opera, classical music, and ballet. The stage comprises six double-layered lifts which can be raised and lowered within a range of 10 m (33 ft), opening new production possibilities. The orchestra pool can be raised to the height of the main stage to extend the performance area into the house.
The 600-seat theatre complements the main performance hall and is designed for flexibility to accommodate experimental productions. The stage and seating can be easily rearranged, enabling catwalk, four-sided stage, immersive, and interactive theatre experiences.