Big-D Construction completes first Utah adult autism center
May 31, 2021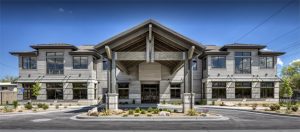 Big-D Construction[2] has completed the new Adult Autism Center for Lifetime Learning[3], the first of its kind in the state of Utah. Care at the facility will be provided by Valley Behavioral Health.
The construction build site totaled 4802 m2 (51,690 sf) and included a parking lot with 65 parking stalls, a two-story structure, and the nearly 1394-m2 (15,000-sf) care center. The center will offer support and treatment to adults with autism to help them continue their educational experience throughout life. Emphasized at the facility is a vocational skills training program, and diverse educational experience in various academics such as culinary, fitness, agricultural, and medical.
"We are honored to have been a part of such a necessary and essential project that impacts the community we are all proud to be a part of," said Brian Murphy, project director at Big-D Construction.
The Adult Autism Center of Lifetime Learning provides the programming and support to benefit these individuals and serves the most severe and most affected of this population.
"Not only was the team [at Big-D Construction] easy to work with, but they also made sure we stayed on track to meet our goal of opening by April 22," said Rebecca Brown, interim CEO of Valley Behavioral Health. "The new Adult Autism Center turned out beautifully, and we are so excited for the amazing work will take place there for years to come."
Endnotes:
[Image]: https://www.constructionspecifier.com/wp-content/uploads/2021/05/Opener-31.jpg
Big-D Construction: https://big-d.com/
Adult Autism Center for Lifetime Learning: https://adultautismcenter.org/
Source URL: https://www.constructionspecifier.com/big-d-construction-completes-first-adult-autism-center-in-utah/
---