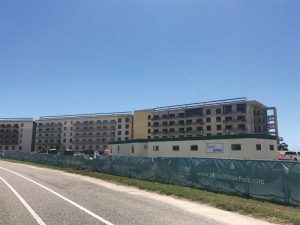 Life-cycle analyses included using service-life prediction modeling. This modeling analyzes a variety of factors such as climate, splash zone, concrete-mix design, concrete coverage, etc. to predict the length of project service life before repairs will be needed. For uncoated rebar, the expected service life before repairs was 11 years, according to the analysis. Epoxy-coated rebar boosted the service-life estimate to 25 years. Data used to represent the effect of the bio-based migrating corrosion-inhibitor admixture brought the service life up to a projected 40 years before repairs.
The admixture cost analysis also promised to bring the project within budget, so Marlin investigated deeper, following up with other engineers and consultants who had used the admixture, before finally presenting the option to the construction manager and ownership team. Ultimately, the admixture was adopted, saving an estimated $250,000 to $300,000 and representing less than half a percent of the project's total multimillion-dollar construction cost (special thanks to Andrew Marlin (senior principal, MBA Engineers) for project background).
Achieving sustainability
In addition to cost savings and corrosion-inhibitor benefits, the bio-based admixture had several other features aligning with the project's goal to be LEED Gold certified. Two factors in particular helped the project earn points toward the LEED certification:
the admixture was derived from corn (a renewable resource) and contained 67 percent United States Department of Agriculture (USDA) certified bio-based content; and
the admixture was made in Sarasota, Florida, within an 805-km (500-mi) radius of the building location of the Gulf State Park.
Another positive 'eco-friendly' aspect of the admixture included its certification to meet ANSI/NSF. This certification involves testing to make sure the admixture will not leach harmful contaminants into the water.  Although the standard is intended for guidance on materials specifically used in drinking water structures, by extension, it suggests an overall friendlier profile for humans and the environment.
In recognition of the project's sustainable and environmental focuses, including and also going beyond the corrosion protection aspect, Gulf State Park and the admixture supplier received the Community Partner Award from PEP, a local coalition of businesses and educational leaders seeking to implement environmental best practices.
Future ideas
The Lodge at Gulf State Park is a model for countless other coastal reinforced structures for which builders are looking to achieve sustainability and durability. The same bio-based admixture that was used in the new lodge and surrounding structures is a viable strategy for minimizing corrosion on other reinforced concrete structures in similar environments, with the purpose of extending service life in severe conditions. It has, in fact, recently been used in the coastal port renovations and seawater aquariums in the Gulf Coast area. The multitude of new projects will show how the bio-based admixture stands the test of time and also reduces long-term repair costs for owners.
Julie Holmquist is a content writer at Cortec Corporation where she researches and writes about corrosion-inhibiting technology for concrete, electronics, metalworking, oil and gas, and other industries. She can be reached via e-mail at jholmquist@cortecvci.com.
Andrea Moore is chief operating officer and co-owner of M2 Solutions, Inc. in Mobile, Alabama, where she assists owners, engineers, and contractors with service-life solutions for infrastructure through technologically advanced products. She is a graduate of Vanderbilt University's School of Engineering, and the Technology, Operations & Business Education (T.O.B.E.) program at the University of Maryland's Robert H. Smith School of Business with more than a decade of experience in industrial projects and service life solutions. She can be reached via e-mail at andrea@m2.solutions.
Casey Heurung is a technical service engineer at Cortec Corporation. He has four-and-a-half years of experience in the corrosion industry and holds a B.Sc. degree in chemistry. He performs routine testing, offers technical recommendations, and develops products for the company. He can be reached at cheurung@cortecvci.com.