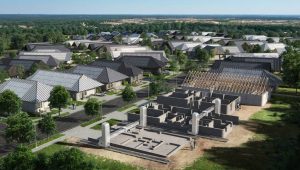 Lennar, one of the nation's leading homebuilders, and ICON, a construction technologies company, announced plans to build the largest community of 3D-printed homes to date, located in Texas, using ICON's innovative robotics, software, and advanced materials. The community will be co-designed by architecture firm, Bjarke Ingels Group (BIG), with completion set for 2022.
The announcement deepens a relationship that began with Lennar's investment in Austin-based ICON's recent $207 million financing round and offers a path toward delivering affordable, technology-driven homes.
ICON's 3D printing technology produces energy-efficient homes while keeping construction projects on schedule and on budget. Designed and engineered from the ground up for volume 3D printing of homes, ICON's Vulcan construction system can deliver homes and structures of up to 279 m2 (3000 sf) that are built to the International Building Code (IBC) structural code standard and expected to last as long or longer than standard Concrete Masonry Unit (CMU) built homes.
"ICON exists as a response to the global housing crisis and to put our technology in service to the world," said ICON co-founder and CEO Jason Ballard. "Construction-scale 3D printing not only delivers higher-quality homes faster and more affordably, but fleets of printers can change the way that entire communities are built for the better. The United States faces a deficit of approximately five million new homes, so there is a profound need to swiftly increase supply without compromising quality, beauty, or sustainability and that is exactly the strength of our technology. It is an honor and a huge milestone for ICON to partner with Lennar, an elite top-tier homebuilder with a commitment to innovation.  We believe this will be a watershed moment in the history of community-scale development and the future breaking into the present."
"Additive manufacturing has the potential to revolutionize the built environment as it gets adopted by the industry at scale," said Martin Voelkle, partner, BIG. "By partnering with ICON and Lennar, we are able to see this new technology roll out to the widest possible audience. The 3D-printed architecture and the photovoltaic roofs are innovations that are significant steps towards reducing waste in the construction process, as well as towards making our homes more resilient, sustainable, and energy self-sufficient."