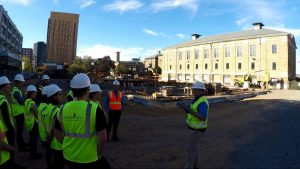 The construction of an academic building at Boston's Wentworth Institute of Technology will double as a "living learning laboratory" for students pursuing careers in the construction and engineering industries. The university's faculty has partnered with project developers from Gilbane Building Company to form a hands-on educational program based on the new facility's design and construction.
"Using the development of this building as a living laboratory is a great way to bring classroom education to life," said Neil Benner, Gilbane's project executive. "These Wentworth students bring tremendous energy and commitment to their studies and it is gratifying to know this building will serve as a testament to the foundation of what will no doubt be long and successful careers."
The program will include bi-weekly site tours, as well as evening sessions exploring various construction and design disciplines, and classroom-based guest lectures. Gilbane is partnering with project architect Leers Weinzapfel Architects and RSC Structural Engineers on the lectures, which examine topics including lean construction, construction risk management, and environmental engineering.
"Gilbane's willingness to share their time and expertise to connect real-world situations from this building's construction to our classroom curriculum has added a new dimension to student learning," said Jack Duggan, chair of the university's department of civil engineering and technology. "Those personal interactions help our students better understand how to approach complex issues, while also visualizing where their own careers will take them in years to come."
When complete, the 6968-m2 (75,000-sf) building will feature classroom, gallery, lecture, and meeting spaces, as well as Wentworth's Innovation Center, which encourages collaboration among students and alumni, community members, and industry professionals. Additionally, the facility will house the school's new biological engineering program, biomedical and civil engineering programs, and science and manufacturing laboratories.
To read more, click here.