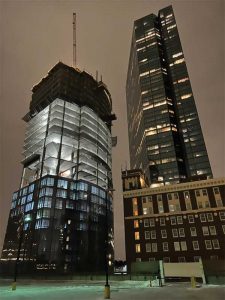 This solution, driven more by hotel brand guidelines rather than the local jurisdiction's ordinances or building codes, brought visual benefits and acoustic improvements. Standard glass panes can pillow or deform, a phenomenon in which the pane is thin enough to move under pressures, such as wind. The effect increases as the glass lites increase in size and the center of the lite moves further away from the aluminum support frames, causing the center of the glass to move in and out to a much greater degree than at the edges. At a thickness of 6.35 mm (0.25 in.), there would have been a significant amount of movement on the Raffles facade's glass panels.
By increasing the lite thickness to 7.94 mm (0.3125 in.) on the exterior pane, the glass was better stabilized, and the pillowing effect was noticeably reduced. This also made it look flatter and more consistent across the facade than it otherwise would have, particularly for a building with large pieces of glass at the various spaces spread throughout the project.
Wind considerations
A consideration for all tall buildings is wind performance. Many building professionals will recall the adjacent Hancock Building's early wind-induced glass panel failures, which led to more conservative design standards in the industry. Today, Boston's Article 80 development review process requires projects of certain sizes and at certain locations
to undergo types of wind studies, each measuring a different impact on the project.
For example, this project required a pedestrian comfort study, which analyzes wind movement at sidewalk level. A lateral load study, which explores how wind affects the base building structure, especially the columns, lateral bracing systems, and the foundation. The final study, which is a cladding load study measuring the extent of the wind forces that are either pushing or pulling on the exterior surface of the building.
These tests involved a physical scale model constructed from project drawings and it was then placed on a large-format model of Boston and subjected to wind tunnel testing. With an array of highly tuned sensor points, the wind tunnel team was able measure how much wind load exists at different points on the building's exterior. All these tests and studies helped set parameters for the facade system. In addition, the information attained from the wind studies was given to the general contractor and fabricator to ensure the engineering of the curtain wall system matched the design requirements to resist anticipated wind loads.
The Raffles tower faces a challenging set of wind considerations. It is sited on one of the windiest blocks in Boston, due to its orientation and the proximity to the Hancock, which shifts the prevailing winds. Due of these environmental factors, the wind studies played a much larger role in the Raffles tower's design and development than on a typical urban project.