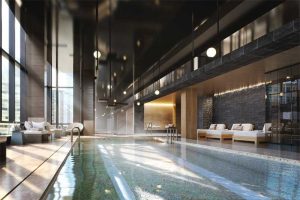 The module was placed under pressure, with air and water being spayed to simulate winds and rain at specific velocities, determined by the earlier wind studies, varying water, and humidity conditions. Once this initial baseline testing was performed, the entire mock-up was subjected to structural tests meant to mimic the real-life forces exerted on the building. This determined the limits of allowable movement within the system. After the module was stressed, the same air and water tests were performed to ensure the final system could withstand the forces placed on the building. Lastly, a glass unit was removed and reinstalled to simulate a field repair on the building. This reglazed section was then tested to ensure the field-glazed unit would perform identically to the factory-built units. The cycle testing process lasted for a week to fully determine how the curtain wall modules would stand up under the specific conditions facing a high-rise at the project site.
The project team, including architects, engineers, and curtain wall consultants and installers, attended the testing sessions, observing the erection and overseeing the tests themselves. The curtain wall consultant then generated a report recommending several fabrication changes to ease the field installation. This process resulted in several sequence changes for the assembly of parts and identified two areas where the waterproofing membrane, specified between the unitized curtain wall, and the adjacent composite metal panel rainscreen system needed to be modified.
The second mock-up for visual performance was built locally by the general contractor in Boston for visual review and approval by city agencies. Staff from the Boston Planning and Development Authority (BPDA) came onsite to review the vision glass, the spandrel glass, the proportions of the horizontal bands and fins. The final set of drawings was then reviewed and approved.
Project teams continue the testing process after the mock-up stage as well. As the facade installation continues at the Raffles tower, for example, there is an ongoing test schedule involving the architect, contractor, and curtain wall consultant. Currently, the project team is conducting active air and water testing across segments of the facade to ensure it performs up to the anticipated water and airtightness levels. This kind of testing also extends to specific facade elements, including terrace doors and building corners.
Curtain wall systems vary in terms of carbon footprint, depending on factors including the type and size of mullions and other metal elements, as well as the size of the panels themselves. In terms of performance, curtain wall systems can reach a high level of efficiency when the balance between opaque insulated areas and vision glass is correctly balanced. During the design process for the Raffles tower, the project team actively tracked and monitored this ratio down to the square inch to meet the building's thermal performance and carbon goals.