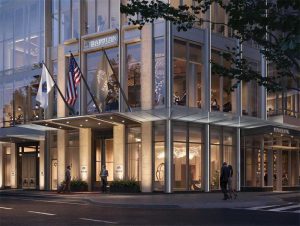 By Alexander Donovan, LEED AP
When designing and building high-profile high-rises, a unitized curtain wall system is often the favored facade solution, for more reasons than just highlighting the skyline. The benefits of this approach range from manufacturing, quality control, onsite installation speed, and enhanced water resistance.
When the colonial-style Singaporean brand selected a prominent corner site in Boston as the location for its first North American mixed-use property, it was no surprise the project team chose a unitized curtain wall facade system for the building. Raffles Boston Back Bay Hotel & Residences, which is well under construction and slated to be open in 2023, will be a 35-story tower, set to hold 147 guestrooms, and 146 residential units.
With a complex set of environmental and contextual conditions, the project's specification and design approach offers valuable takeaways for building teams engaged in urban high-rise design and construction with curtain wall systems. The case history also sheds light on key considerations and best practices in such applications.
One immediate challenge for the project team was site context: the building lot is set just 20 m (65 ft) from the largest all-glass building in Boston. 200 Clarendon is an iconic structure, colloquially known as the John Hancock Tower, or simply the Hancock. Designing in proximity to a local landmark is always complex. A primary design goal for the Raffles tower—which includes many elements of glass specification—was how to create a new skyline statement of subordinate scale and make it visually stand apart from the taller Hancock, while respecting the tower's importance to the city's urban fabric. How the team resolved this is explored further in this article as well.