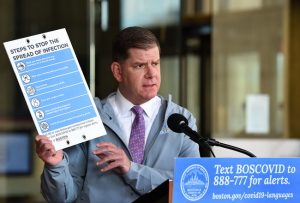 The City of Boston has implemented new protocols for construction work in the city due to the spread of COVID-19.
The city is allowing essential construction project on sites meeting the following criteria:
projects are permitted, in compliance and have filed a COVID-19 Safety Plan and a signed affidavit;
sites are sufficiently prepared to adhere to all criteria of their safety plan; and
the work is for hospitals, public schools, residential buildings [one to three units], road and utility work, or other outdoor/open air-work such as steel erection, roofing, and constructing foundations.
The city is taking an incremental approach to broadening the allowable categories. If all goes well, then on May 29, the city will allow all essential construction projects to re-commence in adherence to their safety plans.
This incremental approach will provide the time necessary to allow complex, large-scale developments an opportunity to educate the workforce, safely remobilize, and implement their site-specific safety plans.