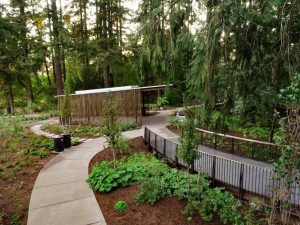 Phase 1 of a Portland city project has introduced changes to a historical site to create Leach Botanical Garden—which reflects the founding couple's values for environmental stewardship, while creating a regional attraction for Portland.
Phase 1 of the project was led by Land Morphology, the landscape architect tasked with the redevelopment of the site, with input from a wide range of consultants: Olson Kundig as architects, twelve specialist subconsultants in engineering, wayfinding, arboriculture, among others, the Leach Garden friends, a 14-person community advisory committee, and the City of Portland.
Originally a private garden in 1931 of pharmacist John Leach and his botanist wife Lilla Leach, it was gifted to the City of Portland after the couple passed away. The site is bisected by the Johnson Creek, which the native people inhabited before the 1800s. When the Leachs acquired the property in 1931, they recruited California-based landscape architect, Wilbert Davies, to develop landscaping plans for it. However, the plans were partially carried out and cut short after the founders' deaths.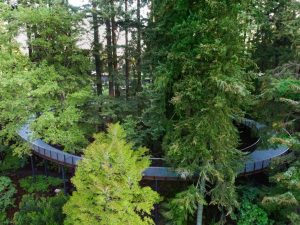 Phase 1 has implemented a network of trails to reshape the garden experience. A 122-m-(400-ft-) long aerial tree walk has been built, winding in an ovoid form through a native forest of western cedar and Douglas fir, overlooking the original Leach manor house and Johnson Creek. Another crucial addition is the series of three botanic collections: Pollinator Meadow, Woodland Hillside, Southwest Garden. They aim to instill the founders' love for plants and nature and their values of environmental stewardship in visitors.
The elevated tree walk is central to the garden. It rises above grade level, which features the newly built pavilion and fireside terrace, and reaches 10 m (35 ft) at its highest point. The bar grate decking along the tree walk allows visitors to catch a view of the forest floor, which heightens the sense of being surrounded by a canopy of trees.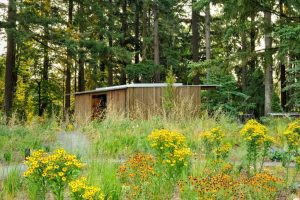 The grade-level pavilion was designed by Olson Kundig to serve as a place of rest and peace, as and a venue for event rentals. A gas fire feature allows for extension of the garden's role. Another substantial improvement to the site is furnished concrete and compacted gravel paths for pedestrians, along with a new path meeting accessibility requirements, leading to the treewalk.
"The master plan captures ecological and cultural values that will be an asset to Southeast Portland. It will educate visitors while serving as a regional attraction for Portland residents—not to mention the benefits to local tourism," says Richard Hartlage, land morphology founder and principal-in-charge of the project.