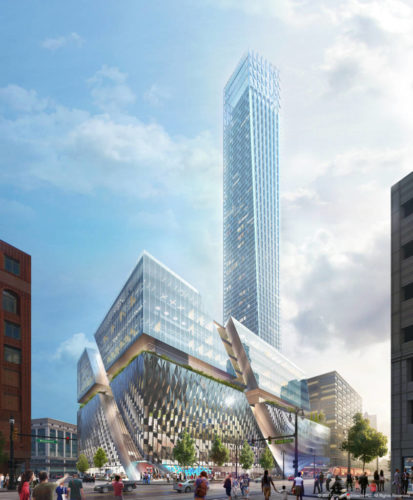 Last month, construction began in Detroit on Hudsons Tower. Upon completion, the building will be Michigan's tallest, reaching 244 m (800 ft).
Designed by SHoP Architects and Hamilton Anderson Associates (HAA), the $900-million project will include a 58-story tower with over 300 residential units and a rooftop observational tower. An additional 12-story mixed-use building will be constructed next to the skyscraper and will feature a large market, exhibition area, and retail space.
"The building is conceived around a huge and inspiring new public space, a year-round civic square that, both in its architecture and its culture, will foster and convey the feeling we all share when we work together to imagine what this great city can become," says William Sharples, SHoP principal.
The building's site once housed Hudson's, one of Detroit's most beloved department stores. The flagship store closed in 1983, after nearly 100 years of operation, and the building was imploded in 1998.
"Ever since Hudson's closed its doors in 1983, Detroiters have waited and wondered what would come next and what could possibly live up to the incredible history of that block," says Detroit Mayor Mike Duggan. "It's taken nearly 35 years to get that answer, but when people watch this incredible new building rise and see all of the jobs and opportunity it brings, it will have been worth the wait."
Hudsons Tower is expected to complete construction in 2022.
To read more, click here and here.