by Kurt Wood and Lon Bauer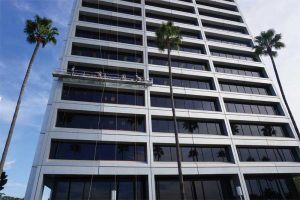 When it comes to exterior-use architectural and protective coating technologies, the in-depth science and the creation of performance standards behind the beauty is incredible. Polymer resins, pigments, and additive technologies have advanced throughout the years, challenging the governing associations to set the bar even higher for what truly means 'high performance in construction.'
Color fade or retention is one of the most visible indications of coating performance and many of the technological innovations are focused on improving this characteristic. ASTM International, the American Architectural Manufacturers Association (AAMA), Master Painter Institute (MPI), and the Society for Protective Coatings (SSPC) are four of the influential governing agencies advocating and setting standards for manufacturers and professionals in the industry.
How are technology advancements proven? In short, by a lot of testing. However, when it comes to color fade the question to explore is whether pigmented coatings should be tested to the standard, or adapted to suit the chemistry and substrate. Moreover, what proper standards for color retention should be required for field-applied coatings?
Standard practice for testing weatherability and color retention
Being able to accurately predict service life through weathering testing allows coating manufacturers to estimate failure rates, establish warranty conditions, and set customer expectations. Prior to launching an exterior coating into the marketplace, accelerated weathering tests are conducted on the prototype coatings to assess their ability to perform under high ultraviolet (UV), elevated heat and temperature, humidity, oxygen, water, and atmospheric pollutants found in harsh climates. Test chambers can replicate or intensify outdoor environmental conditions with extreme UVA and UVB exposure, as well as wet-dry cycles.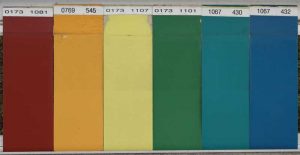 To further validate the performance of new technologies, panels coated with prototype formulations are also tested at specific locations with challenging climatic conditions (e.g. south Florida below 27 degrees latitude) at specified angles (e.g. 45-degree angle facing south), maximizing the annual exposure to solar radiation. These natural weathering tests replicate real-world UV exposure and other environmental conditions, but they are typically more aggressive than the weathering conditions seen by most materials in their end-use environments. In both natural and accelerated weathering testing, new prototype materials are directly compared against previous iterations of the same chemistry, as well as against commercial formulations based on standard chemistries, to quantify improvements in performance. When it comes to measuring color change due to weathering, the most commonly used metric is Delta E (ΔE). It quantifies the total color difference between the exposed panel and the original color. Gloss change and chalking are also recorded and evaluated, as both these properties contribute to changes in coating appearance.
Understanding the testing standards for high-performance coatings
It is important to give an overview and comparison of a few of the important standards produced by the aforementioned governing agencies impacting the specifications of color retention.
According to AAMA, the purpose of 2605, Voluntary Specification, Performance Requirements and Test Procedures for Superior Performing Organic Coatings on Aluminum Extrusions and Panels (with Coil Coating Appendix), is to "…assist the architect, owner, and contractor to specify and obtain factory-applied organic coatings, which will provide and maintain superior [2605] level of performance in terms of film integrity, exterior weatherability, and general appearance over a period of many years."
Coatings with high fluoropolymer resin content, typically 70 percent of total polymer weight, meet AAMA 2605. Under this standard, there are 17 ASTM test methods with criteria for compliance. For the weathering section 7.9, this standard specifies a maximum of 5 ΔE (Hunter) units of color change as per ASTM D2244, Standard Practice for Calculation of Color Tolerances and Color Differences from Instrumentally Measured Color Coordinates, after an exposure time of 10 years in south Florida at a south-facing, 45-degree angle. However, AAMA 2605 outlines "new colors, whether formulated by a paint manufacturer or blended by an applicator according to a paint manufacturer's specifications, may be qualified without the exposure test…provided they are produced with the same pigments in the same coating resin system on a color on which acceptable ten (10) year test data is available and which is within the ± Hunter Units in lightness (L)."
In terms of chalking, AAMA 2605 stipulates testing per ASTM D4214, Standard Test Methods for Evaluating the Degree of Chalking of Exterior Paint Films, Method A after natural weather testing has been completed with 10 years of exposure data. To comply, coatings must have a minimum rating of eight for colors and six for whites, on a scale of zero to 10 (10 equals no chalking). Gloss is read at 60 degrees on unexposed and exposed areas of the test area per ASTM D523, Standard Test Method for Specular Gloss, and the coating must retain a minimum of 50 percent of the original gloss, after the 10-year exposure period.