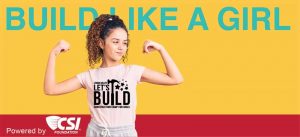 We headed into 2020 with a full year of in-person meetings, events, and conferences to attend. We looked forward to high-fiving a friend, having a drink with an old colleague at a hotel bar, and meeting new people. Well, we can all agree the year has not gone as planned!
With only 10 percent of the architectural, engineering, contracting, and owner (AECO) industry being women, we must find a way to build a more diverse workforce. We would like you to consider donating to the CSI Foundation's effort to encourage girls to embrace a career in the AECO profession by sending them to the Let's Build Summer Camp for Girls. Our hope is your investment in their future will help build the future leaders of CSI.
As 2020 comes to a close, please take a moment to reflect on how the CSI community has helped you during this period of uncertainty and remember that together we can create the future. Your donation—no matter how big or small—can help extend the opportunity to people in your community.
Student talks benefit of attending camp
Paige Knowles, a recent high-school graduate who studied plumbing while in school, attended the Let's Build Construction Camp for Girls. She also competed in plumbing competitions where she won several titles. Knowles shares some of her top takeaways from her experience at Let's Build.
I have learned so much with this camp. Some of the most important things are the basic skills of electrical, HVAC, carpentry, masonry, and interior and exterior finishes. I have also learned soft skills such as leadership, networking, and confidence.
I think this camp is important to those that are interested in construction-related careers because it gives them a sneak peak of what their life would look like, and gives them exposure to the work they would have to do.
Let's Build Construction Camp has helped me realize what skills I have and it encourages me to work hard no matter my gender and goals (nontraditional). I have also gained a lot of confidence around people because of this camp, and that has helped my life in other ways.
Read more about Knowles' top takeaways from Let's Build, as well as other insight from ACEO professionals at the News and Blogs page of CSIResources.org.