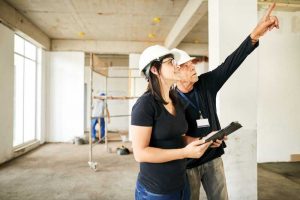 Moisture control and durability of building envelopes is of particular concern in climates which are subjected to large temperature gradients, extreme weather, and require indoor heat and comfortable humidity levels. In addition to the moisture infiltration from exterior sources, such as precipitation, controlling indoor temperatures can also impact the production of moisture within a building. Similar to the concept of an aluminum can cooler sleeve, when warm air (indoor heated air) reaches a cool object (exterior/perimeter components of a building), it condenses, creating moisture. The concept taking this into consideration is thermal bridging. This is simply a pathway (bridge) to move cold temperatures from an outdoor surface to an indoor surface. An example of this would be a wooden wall stud on an exterior wall. The stud gets cold and acts as a "bridge" to transport the cold temperature to an interior wall. When the interior wall cools, there is potential for condensation and mold growth.
When moisture becomes a problem
Mold is symptomatic to a problem, of which the root cause is most often linked to a failure in the design and execution of the building envelope assembly, and the associated air handling systems provided.
Resolving moisture issues within a building enclosure involves three phases, broken down into nine key elements.
Phase I
Element one: Condition assessment
Investigators should undertake building envelope condition assessments as the first step toward the remediation of moisture problems in affected building enclosures. These assessments can include: a review of architectural as-built drawings and details, interviews with occupants, on-site visual review, air leakage testing, thermography, water testing, vapor transmission testing, destructive testing, monitoring, and sample material testing.
 Element two: Evaluation
Once the sources of the problematic moisture is or are identified and understood, a conceptual remedial repair plan with design options is created and evaluated. In this second step, inspectors will also draw upon their experience and industry knowledge, and consult with representatives from manufacturers to source appropriate options. Inspectors may also use analytical software such as WUFI, THERM, Window, and Energy Star.
Element three: System selection
Once the design options have been successfully evaluated, pre-construction estimates or quotations are provided for client approval. Obtaining a definitive estimate at this early stage is critical for the success of the project.
Phase II
Element four: Design
Architects and specifiers develop drawings and specifications based on the client's selected system. The client reviews the design and confirms it is in line with their intent.