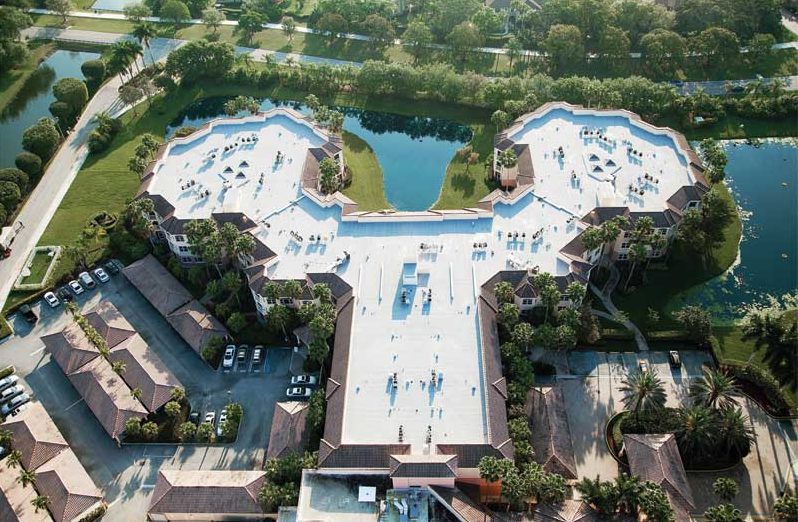 by Tim McQuillen
Savvy roofing contractors have preferred asphalt for low-slope roofing systems for more than a century. Through innovative research and development, low-slope asphalt roofing is continually advancing, making these systems more installer-friendly while maintaining their superior reliability and durability. The two main types of asphalt roofing systems for commercial, industrial, and institutional buildings are modified bitumen (mod-bit) and built-up roofing (BUR).
Mod-bit and BUR offer tremendous system versatility, long-term weatherproofing protection, and of course, redundancy, characteristics that make them popular in any geography or climate. Both system types consist of multiple layers, which provide durability and stability, and make these roof membranes especially tough and water-resistant. Their redundant structure and overall system thickness enhance the ability of both mod-bit and BUR systems to stand up to the forces of man and Mother Nature.
It is important for building owners, contractors, and specifiers to understand the differences among asphalt roofing products and installation options to make the best choice for their building project. When considering roofing choices, several factors must be considered, including:
building location and use;
rooftop traffic frequency;
the presence and service requirements of mechanical equipment;
life-cycle cost (including required maintenance); and
availability of materials and qualified installers.
While mod-bit and BUR have a lot of similarities, they have different installation methods, providing various options in order to accommodate the challenges posed by low-slope roofing applications.
Understanding mod-bit and BUR materials
Mod-bit sheet materials are composed of polymer and asphalt-modified bitumen with one or more reinforcing fabrics such as polyester, glass fiber, or a combination of both. Not only is mod-bit an affordable roofing choice, it is easy to install, highly weather-resistant, and has a long history of use in numerous applications.
The difference between mod-bit and BUR is that the asphalt used in manufacturing the mod-bit systems is modified by one of two polymeric materials: atactic polypropylene (APP) or styrene-butadiene-styrene (SBS). These modifiers help enhance specific physical and mechanical properties of the asphalt for use in different applications.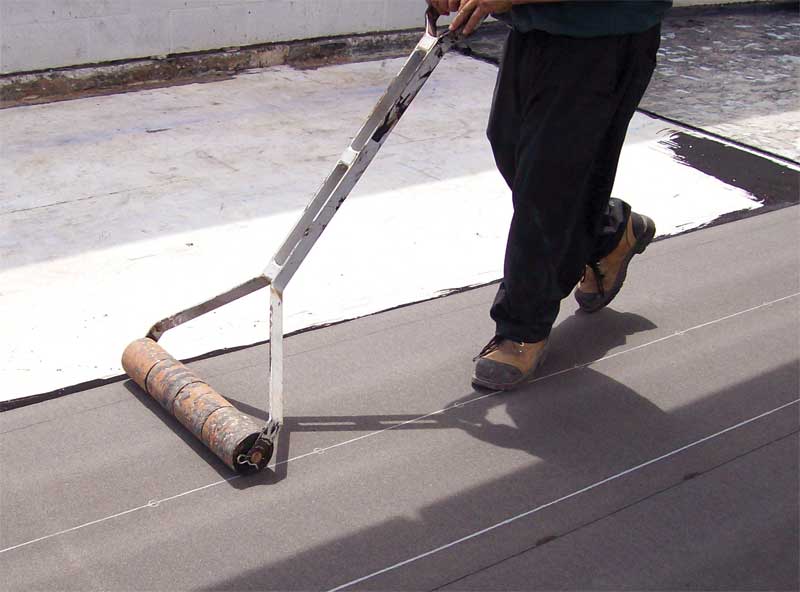 APP-mod-bit
APP-modified bitumen is modified with a plastic (polypropylene) polymer that creates a uniform matrix within the bitumen. This increases the membrane's flexibility and resistance to high temperatures, as well as improves its resistance to ultraviolet (UV) light.  APP "plastic" modifier additive is combined with the asphalt to provide a tougher, better weathering asphalt coating that can be heat-welded or applied with cold adhesive.
SBS-modified bitumen
SBS-mod-bit has superior elongation and recovery properties over a wide range of extreme low and high temperatures, and when properly installed and maintained, it is designed to result in a resilient waterproofing membrane. The material is also durable and versatile, allowing movement or deflection of the underlying deck.  SBS "synthetic rubber" modifier is combined with asphalt to provide an elastomeric asphalt coating. SBS membranes may be applied using a variety of methods: heat welding, cold adhesive, self-adhered, mechanically fastened, and hot asphalt.
BUR systems consist of multiple layers of hot- or cold-applied liquid asphalt alternated with ply sheets (felts) applied over the substrate, typically an insulated assembly. It is a popular low-slope roofing system option due to its superior protection against leakage when compared to single-ply systems. Topped with a mineral-surfaced cap sheet, gravel surface, or coating, BUR systems also help to safeguard the substrate materials from ultraviolet (UV) rays, while adding enhanced fire resistance.