DEVONSHIRE AT PGA NATIONAL RESORT AND SPA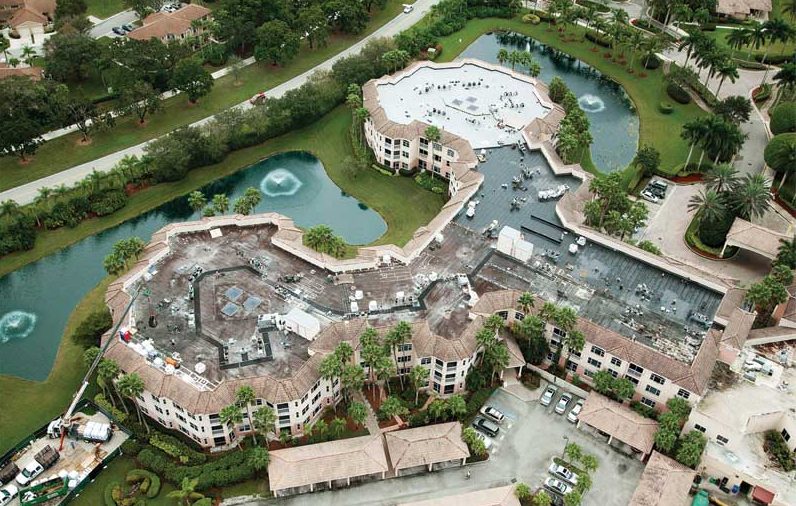 Heat-welding was used to install the mod-bit roofing system at the Court and Cove buildings of Devonshire at PGA National in Palm Beach Gardens, Fla. Devonshire serves as a popular destination for retirement living on a pristine and luscious 26 acres.

In 2015, Advanced Roofing Inc. of Fort Lauderdale, Fla., was hired to reroof two buildings on the property. The roofing systems on the 4264-m2 (45,900-sf) Court building and the 4738-m2 (51,000-sf) Cove building had begun to deteriorate as a result of heavy foot traffic. Numerous air conditioning units located on the roofs had to be serviced regularly, often requiring heavy equipment to be brought in. As a result, the roofing systems were at risk of eventual failure, threatening the closure of the buildings.

Advanced Roofing removed the existing roof down to the lightweight insulating concrete deck, and applied base sheets with twin-lock fasteners. From there, cap sheets were heat-welded. Two high-performing three-ply SBS-mod-bit roofing systems were then installed. In this case, the chosen system helped prevent further leaking, was durable against foot traffic, and could withstand Florida's unpredictable weather.
Considerations for installation methods
Both mod-bit and BUR systems offer a variety of installation methods that provide long-term weatherproofing and versatility.
Cold adhesive systems
Offered by most manufacturers, cold adhesive systems can be installed using rollers, sprayers, squeegees, or labor-saving machines. They do not require kettles, tankers, hot piping or mop carts, which are used in traditional hot applications.
When using a cold-adhesive installation method, a roofing professional should take equipment staging, potential work disruptions, and environmental conditions into consideration. While cold-adhesive systems can be installed in a wide array of environmental conditions, appropriate considerations concerning optimal adhesive temperature should still be addressed. The minimum temperature for application of cold adhesive is 7.2 to 10 C (45 to 50 F); however, it is recommended the adhesive is maintained around 21 C (70 F) to optimize application rates and material performance. Surface rolling the membrane to ensure consistent contact and full adhesion is recommended.
Heat-welded systems
Another installation option is heat-welding. Heat-welding is the traditional mod-bit installation method. APP and SBS formulations of mod-bit membranes can be installed by either a hot air welder or a specialized propane roofing torch; many modified membranes are manufactured specifically for torch or heat-welding application.
The hot air welding method uses hot air to melt the asphalt compound and is often used to weld seams. When this method is utilized, it is generally to weld the seams of cold adhesive, self-adhered, or mechanically fastened mod-bit membranes.
Torch-applied systems require an asphaltic base sheet or another form of separator sheet when used over combustible substrates. Additionally, roofing professionals should take into consideration local building codes and specific training, such as the National Roofing Contractors Association's (NRCA) CERTA program, which may specifically address safety aspects of torch installations.
When heat-welding is properly executed, the heat from the application melts the asphalt, creating a fluid adhesive that then cools and bonds to the substrate. When two layers of sheet material are heat-welded, they fuse together forming
a consistent and monolithic membrane. The tolerance to extreme ambient temperatures, application forgiveness, and versatility of this installation method make it a popular year-round choice for contractors.
Self-adhered membranes
Self-adhered mod-bit membranes utilize specialized formulations incorporating resins and polymeric materials in the manufacturing process. At the point of application, the adhesive requires a temperature of 7.2 to 10 C (45 to 50 F) or higher to ensure proper adhesion to the substrate.  This is an increasingly popular installation method due to its versatility, ease of installation, and lack of flames or kettles. Self-adhered systems require the tools commonly used in all roofing applications, such as weighted rollers to help press the membrane into place against the substrate. Additionally, self-adhered systems bring added value through enhanced performance. These systems provide exceptional wind uplift performance and also serve as excellent air-barriers. In fact, both mod-bit and BUR systems are listed as air-barrier materials in model energy codes: International Energy Conservation Code (IECC) 2012, 2015, and 2018.
No matter what type of low-slope asphalt product is used, or what installation process is selected, properly installed and maintained multi-ply asphalt roofing systems can provide durable, long-term waterproofing protection for the building. As with any roofing system, selecting knowledgeable contractors who are familiar with, and trained to install, quality low-slope asphalt roofing systems per the membrane manufacturer's instructions will help to ensure a proper and long-lasting installation. Building owners, contractors, and specifiers should understand the differences among asphalt roofing products and installation options to make the best choice for their building or project. Asphalt roofing is able to take on the many tough challenges of low-slope roofing applications.
BROWARD COUNTY ADDICTION RECOVERY CENTER STEPHEN BOOHER BUILDING
Another example of mod-bit roofing's superior performance is showcased on the Broward County Addiction Recovery Center's Stephen Booher Building in Coral Springs, Fla. The addiction facility's 4641-m2 (49,955-sf) roof was plagued with leaks caused by open laps from existing voids and roof transition areas.

In response, Advanced Roofing Inc. of Fort Lauderdale, Fla., proposed a complete roof replacement and installation of a new mod-bit roofing system. An SBS-mod-bit membrane was installed with a mechanically fastened base sheet, followed by the heat-welding of all laps. SBS was chosen for its proven durability against the torrential rainstorms and high wind conditions common in the state.
Tim McQuillen has worked in the building products industry for 25 years and is currently director of technical services for the Asphalt Roofing Manufacturers Association (ARMA). He has previously worked as the technical manager of codes for Firestone Building Products Company, where he coordinated and executed product testing programs to obtain and document building code compliance. McQuillen is a member of ASTM International and serves on the Technical Committee for ARMA, SPRI and the Cool Roof Rating Council (CRRC). He can be contacted via e-mail at TMcQuillen@kellencompany.com.