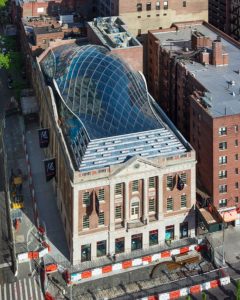 Reimagining the historic Neo-georgian structure of Tammany Hall in New York City's Union Square, BKSK Architects and façades and lighting experts at Buro Happold have debuted its adaptation as commercial office and retail spaces with a monumental, freeform dome visible from around the city.
Capped with the parametric glass dome surrounded partially by distinctive terra-cotta sunshades, the new structure suggests a turtle shell, inspired by Lenape symbolism conjured by the hall's namesake Chief Tamanend, leader of the nation in the late 17th century. Along with its meticulously preserved 1928 façades and recreated bronze storefronts, the expansion has earned kudos from both preservationists and modernists.
According to the Lenape Center in New York City, the defining feature of Tammany Hall's re-emergence as a bulwark of the Union Square neighborhood—its parametric tortoise shell dome—not only provides the community with a dramatic commercial workplace, but it also "reintroduces and reminds us of the Lenapehoking," the Lenape homeland spanning from western Connecticut to eastern Pennsylvania.
The signature three-story addition increases floor area by about 2787 m2 (30,000 sf) and introduces daylight deep within the new workplaces. To maximize useful sunlight while protecting against glare and unwanted solar heat gain, Buro Happold and BKSK Architects analyzed insulating glass and solar illumination, along with studies of precedents in glass domes, to create an equally sustainable and memorable solution.
As façade engineer, Buro Happold devised a plan to achieve something rare: decoupling and then reattaching a historic exterior, which in this case was designated a landmark in 2013.
"We worked with structural engineers Thornton Thomasetti, geotechnical experts at RA Consultants, and the construction manager CNY Group to support the architectural concept and facilitate construction of the [1045-m2] 11,250-sf dome," said John Ivanoff, an associate principal with Buro Happold, who worked along with Dagher Engineering.
To maintain the features of the original building, "we also collaborated with BKSK Architects in detailing new glazed terra-cotta sunscreen elements to echo the angles and location of a historic slate roof."
The new glass and steel gridshell required detailed studies of the daylight and electrical lighting to ensure it was balanced for evenness, comfort, and productivity.
"Tuning the variables of solar insulation, light infiltration, and glare probability from direct sun at certain times, the lighting design draw from analytics of multiple building systems interacting," said Buro Happold. "The result enhances the value of these unrivaled work spaces below the jawdropping dome expanse."