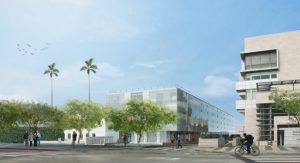 Engineering firm BuroHappold has announced a two-year investment to support the International Living Future Institute (ILFI). The firm will become an Angel-level sponsor for the institute, beginning this year.
BuroHappold has committed to net-zero carbon business operations by next year and to all its new building projects achieving net-zero carbon for operations by 2030. Projects range from large-scale sustainability plans for municipalities and university campuses as well as a range of building types worldwide.
"We have long been avid supporters of the International Living Future Institute, and we are formalizing our partnership in advancing the institute's aims, which truly reflect our own beliefs and business direction in addressing the climate crisis and human wellbeing," said David Herd, managing partner.
As part of its support for ILFI, BuroHappold will host a half-day 'Zero Carbon' workshop in Los Angeles following the CarbonPositive'20 Conference next month, and it will participate in the Paris Solutions Campaign initiative, for which BuroHappold will register 10 zero-carbon projects. The firm will also widely share best practices employed for the Santa Monica City Services Building, which meets ambitious targets for carbon neutrality, water self-sufficiency, and zero waste.
BuroHappold's Angel-level ILFI sponsorship will also benefit manufacturers working to secure Declare labels for their products.
"Through this partnership, BuroHappold and ILFI will be able to advance our mutual commitment to advancing a very ambitious sustainability agenda that pushes the boundaries on what can be achieved through real-world technical solutions," adds Herd, listing a number of key objectives for BuroHappold, including:
helping clients and the public understand the urgency of climate change and the possibilities of climate action to address the climate crisis;
supporting solutions for the issues facing the global energy, water, waste, and products industry;
creating environments that promote health and wellness and enable organizations and communities to thrive; and
continuously enabling and embedding practices that foster a just, diverse, and inclusive culture.
BuroHappold is the first engineering firm to sponsor the organization at the Angel level.