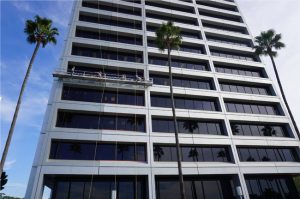 The façade restoration of 610 Newport Center Drive, an office building in Newport Beach, California, has won the 2020 Metal Architecture Design Award in the 'Renovations and Retrofit' category.
Architects judging the award recognized the holistic restoration project for "nailing the recreation and restoration of the [original] design intent" and for "the pride in doing a job that well."
Coating contractor Stuart Dean Company used an emulsion-based coating to give the 45-year-old, 18-story anodized aluminum structure a clean, new, factory-like finish and a 30-year extended service life.
"The original aluminum exterior showed advanced signs of corrosion and pitting and was no longer protecting the structure from ultraviolet [UV] rays and water-borne corrosives," said Chris Incorvaia, national manager of façade restoration, Stuart Dean Company. "While the project's initial [request for proposal] RFP called for a solvent-based coating system, we knew that using a water-based coating would allow us to minimize disruption to the building's high-profile tenants, complete the job more efficiently, and guarantee long-term performance."
The water-based, field-applied polyvinylidene fluoride (PVDF) resin coating system has low volatile organic compounds (VOCs), and is engineered for extreme UV protection as well as resistance to algae, fungal growth, abrasion, dirt pickup, and stains.