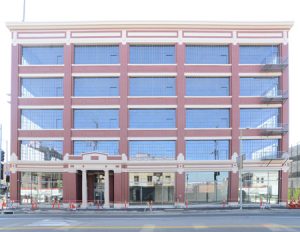 The Los Angeles Chapter of the U.S. Green Building Council (USGBC-LA) awarded Rockefeller Kempel Architects (RKA) the Sustainable Innovation Award in the Sustainable Site category. KRA received the award for creative architectural solutions and restoration work in the adaptive reuse of the historic Ford Factory in downtown Los Angeles, which also achieved Leadership in Energy and Environmental Design (LEED) Gold certification.
Each year, the USGBC-LA recognizes project teams who exemplify a commitment to a sustainable built environment, and who reflect the hapter's focus on energy and water savings, air quality, good design, community engagement, and equity.
"We're honored to receive this award for our work on the rebirth of the old Ford Factory," said Christopher Kempel, AIA, RKA partner. "Adaptive reuse of historic buildings like this one are incredibly fun and rewarding. Not only do they pose design challenges and push our thinking, but also we have the privilege of using our expertise to preserve or restore history while dreaming up modern solutions for a sustainable site."
The original concrete and brick building was one of six factories built by the Ford Motor Company to assemble automobiles from 1913 to 1929. The site consists of a five-story factory, a two-story workshop, a single-story storage facility, and a cold storage facility built in 1996.
RKA protected the history of the structures and restored character to the decaying buildings while modernizing the site for future use.