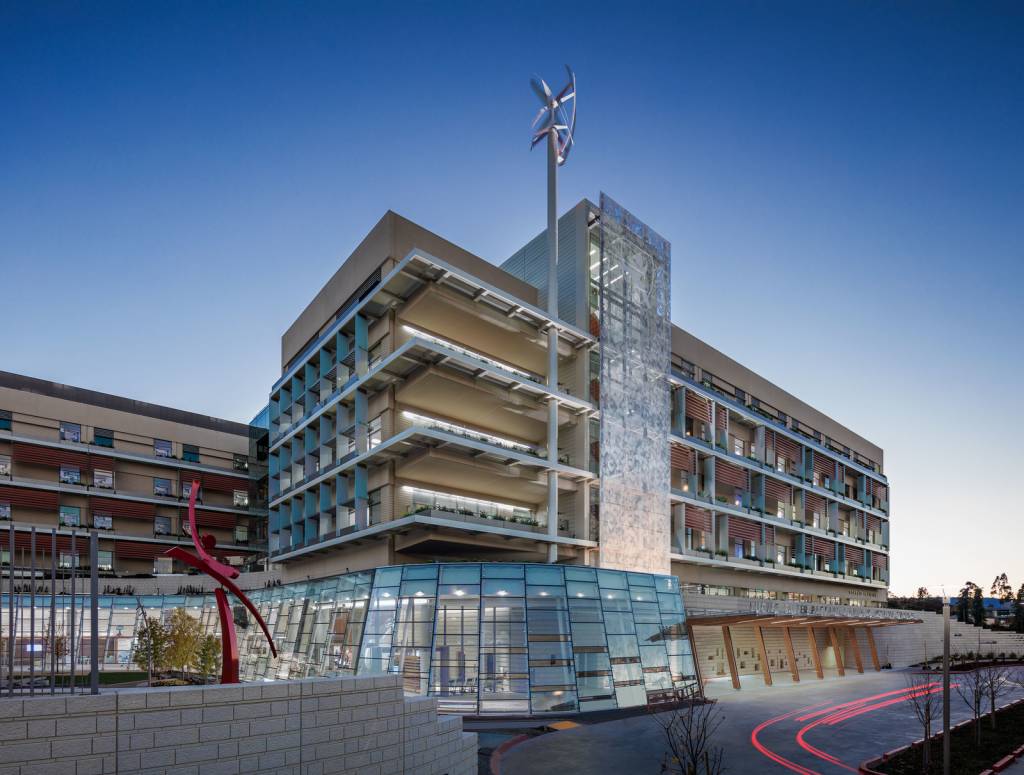 The main building at Lucile Packard Children's Hospital at Stanford University in California has received Leadership in Energy and Environmental Design (LEED) Platinum certification under the U.S. Green Building Council (USGBC), becoming one of the first new hospitals in the world to achieve this designation.
"Sustainability is a core theme for our new hospital and served as a guiding principle in the design and planning process," said Dennis Lund, MD, interim CEO and CMO of Stanford Children's Health and Lucile Packard Children's Hospital. "We are thrilled to receive this esteemed certification, and we applaud the extraordinary efforts and dedication of our design, engineering, and construction partners who made this possible."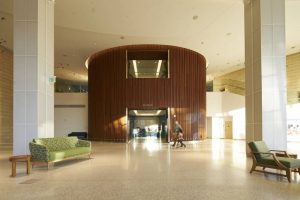 The 48,402-m2 (521,000-sf) facility and its 3.5 acres (1.4 ha) of green space were designed and built by architects at Perkins+Will in conjunction with HGA, Mazzetti, and DPR Construction. When planning the project, the design team worked closely with patients and their families and hospital faculty members to create a facility focused on a family-centered approach to health care and meeting high standards of sustainability.
Through innovative systems to reduce energy and water use, Packard Children's overall energy consumption is expected to be reduced by 60 percent and its water consumption is anticipated to be 40 percent less compared to regional hospital averages. Additionally, Perkins+Will and Mazzetti estimate the hospital has reduced its overall carbon emissions by 90 percent compared to average U.S. hospitals.
"What sets Packard Children's apart is the combination of a high-performance building enclosure that reduces solar heat gain and facilitates innovative, low-energy systems; advanced water-conservation strategies; extensive integration of landscape, including occupied gardens and green roofs; and a focus on local, recycled, and healthy materials," said Robin Guenther, FAIA, principal at Perkins+Will.
The hospital's drought-tolerant and water-efficient landscape design is irrigated with non-potable water, which is collected in two 55,000-gallon underground cisterns. The system filters, stores, and reuses water collected from rainfall and other sources and, according to Perkins+Will, is expected to save as much as 800,000 gallons of water per year. The hospital's greenspace also offers unique, relaxing places for respite, allowing patients, visitors, and staff to connect with the outdoor environment.
"Nature is an important part of the Lucile Packard Children's Hospital identity," said Guenther. "We wanted to create a verdant experience for patients and families. We wanted the look and feel of a lush, green landscape, much like the existing building, but one that could be maintained solely with water from the cistern and natural rainwater."
To read more, click here.