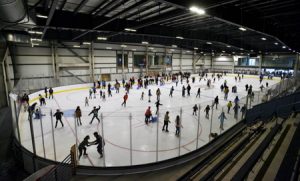 The construction of the Great Park Ice and Fivepoint Arena in Irvine, California, has been completed. It was awarded the Leadership in Energy and Environmental Design (LEED) Silver certification. The complex is the county's first ice rink in 20 years and will house three National Hockey League (NHL) arenas and one Olympic-sized facility.
It will serve as the new training facility for the Anaheim Ducks team and the figure skating team for the Olympics. At 25,084 m2 (270,000 sf), the ice complex is one of the largest in the country.
The ice complex features a composition of two pre-engineered metal buildings (PEMB) and one conventional structure, allowing it to move flexibly in a seismic event and provide higher resistance to tremors. PEMBs have the ability to withstand seismic movement of up to 250 mm (10 in.), while conventional buildings withstand 50 mm (2 in.). Additionally, PEMB offers a cost-efficient alternative to conventional building design in commercial applications.
While most PEMBs are stand-alone structures, the ice center marries two PEMBs with a conventional building in between. The complex design required it to be constructed with an undetectable space between the three buildings to allow for potential seismic movement.
The main arena at the ice center will hold 2500 individuals and provide space to host sporting and entertainment events. It will feature a sports bar, party rooms, classrooms and outdoor public spaces, and amenities. The other side of the building will hold three ice rinks with a capacity of 500 people.