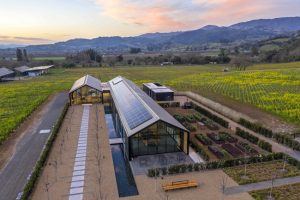 The Silver Oak Alexander Valley winery, Healdsburg, California, has become the largest Living Building in the world. The certification by the International Living Future Institute (ILFI) was awarded after more than five years of planning and construction, followed by a rigorous one-year performance audit.
The Living Building Challenge (LBC) is based on actual, rather than modeled or anticipated, performance. Projects must be operational for at least 12 consecutive months prior to final audit to verify compliance.
The winery is also known for sustainable farming practices and winery innovation, having built the world's first two U.S. Green Building Council Leadership in Energy and Environmental Design (LEED) Platinum-certified production wineries in the Napa Valley and Sonoma County.
"We approached the winery's design with ambitious resource and material targets, but also a goal of building a model that can be replicated in other industries," said David R. Duncan, Silver Oak CEO. "It is important that the technologies and best practices we developed can be applied in other manufacturing environments of all scales."
The Alexander Valley winery is designated as a Living Building through seven categories, or petals.
Water Petal
Water generated during winemaking is treated by a membrane bioreactor (MBR), disinfected with an ultraviolet (UV) system, and stored in a 378,541-L (100,000-gal) tank. This water is reused for toilet flushing, landscape irrigation, and equipment wash downs throughout the winery.
Energy Petal
The winery also achieved net positive energy, with 2595 solar panels generating more than 104 percent of total energy needs. For energy storage, a lithium ion phosphate battery operates as a microgrid to maximize solar panel efficiency and reduce operating costs.
Material Petal
To "help create a materials economy that is non-toxic, ecologically restorative, transparent, and socially equitable," Silver Oak vetted more than 3000 building materials and equipment choices for harmful and commonly found chemicals on the 'Red List.'
Place Petal
Under the Habitat Exchange requirement, Silver Oak donated an equal amount of land (43 ha [106 acre]) through the Napa Land Trust to the Running Deer Ranch project near Lake Berryessa. This land will be put under a permanent conservation easement.
Health & Happiness Petal
The design of office areas maximizes natural lighting and views for employees. Multiple rounds of indoor air quality (IAQ) testing were performed to ensure a healthy working environment. All interior furnishings were vetted for no emissions.
 Equity Petal
Several community gathering spaces are incorporated throughout the tasting room, culinary gardens, and winery; multiple shared patios with picnic tables promote a sense of gathering. A percentage of project costs were donated to local charities focused on health care, education, and the arts.
Beauty Petal 
With an architectural concept designed to "frame the vineyard," the local landscape becomes art.