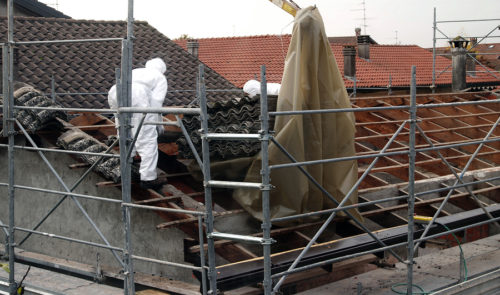 by Benjamin J. Robinson, AIA
Lead, asbestos, and polychlorinated biphenyl (PCB) are often found in aging construction materials, such as paint, sealant, roofing mastics and membranes, and plaster. To streamline future rehabilitation work and prepare for necessary abatement, it can be beneficial to incorporate testing for harmful compounds into the scope of a multi-building assessment.
The presence of hazardous materials affects a bidding contractor's price. In fact, bidding contractors frequently ask whether suspect materials have been tested. Procedures regulated by the U.S. Environmental Protection Agency (EPA) require specific methods of hazardous material handling and disposal to protect not only construction workers, but also building occupants and the public from exposure to toxins. These regulations directly affect construction costs, sometimes significantly. It is therefore in the best interest of building owners and managers to have suspect building materials tested prior to the bid. Finding hazardous materials after a project is bid and awarded will yield increased costs for abatement through the change order process, as well as potential construction delays.
Sampling plans for hazardous materials typically encompass suspect compounds as well as those that might be contaminated through contact. Testing facilities should provide a report documenting types of samples collected, along with their locations and dates of collection. Samples can include:
bulk solids (e.g. sealant or soil);
surfaces (e.g. masonry, concrete, wood, or metal); and
indoor air.
Such analysis can become part of the campus-wide building envelope assessment documentation. It may be used to provide more accurate construction cost estimates, as well as to expedite planned repair work.
Further reading
 For more on multi-building envelope assessments, see this author's article in the May 2017 issue of The Construction Specifier. "Conducting Campus-wide Building Envelope Assessments" can be read by clicking here.

Benjamin J. Robinson, AIA, is a senior architect with Hoffmann Architects Inc., an architecture and engineering firm specializing in the rehabilitation of building exteriors. An experienced professional with more than 10 years at the firm, he oversees building envelope condition assessments and develops rehabilitation master plans that apply state-of-the-art diagnostic methodology to a range of historic and contemporary building types. He may be reached at b.robinson@hoffarch.com.