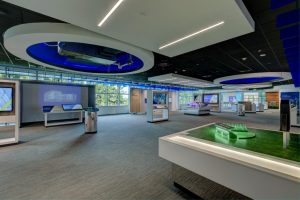 The global headquarters of Carrier, a provider of HVAC, refrigeration, fire, security, and building automation technologies, the United Technologies Corporation (UTC) Center for Intelligent Buildings, is one of the first commercial buildings in Florida to earn the Leadership in Energy and Environmental Design (LEED) Platinum v4 certification.
"Earning LEED Platinum certification is a significant achievement, as sustainability is a core value of our organization and our portfolio of products," said Bob McDonough, president, Carrier. "We designed the UTC Center for Intelligent Buildings to push the boundaries of sustainable building design and provide our employees and customers with a model of what is possible when Carrier's best technologies are deployed in green buildings. Earning LEED Platinum is a testament to what can be accomplished when advanced building technologies are integrated into intelligent building design."
Another benefit of LEED certification is employee productivity and well-being. The UTC Center for Intelligent Buildings was specifically designed to COGfx standards—indoor air quality (IAQ) specifications found by Harvard University researchers to double occupants' cognitive function test scores compared to a conventional building environment.